All foods can be enjoyed when you are trying to lose weight, but some may be more beneficial than others. This is because not all calories are created equally. For example, your body will respond differently to 100 calories of soda versus 100 calories of salmon. While establishing a calorie deficit may be most important for weight loss at the end of the day, how you go about this deficit could impact your results. We're here to help with 10 of the best 100-calorie snacks for weight loss you can choose, because selecting the right items can be daunting.
When shopping for snacks with weight loss in mind, there are a few factors to take into account. A 100-calorie snack is enough to curb your appetite, but it may result in a fairly small portion size for some foods. To maximize your 100-calorie snacks, look for options packed with fiber and protein. These nutrients improve satiety, and research suggests they can reduce subsequent food intake, aiding in your weight loss efforts. Vegetables are also great to incorporate into snacks as they take up very few calories yet provide a good amount of volume.
Instead of grabbing a handful of crackers or picking from the candy bowl at work, consider the below snacks that are 100 calories or less. Many can be put together with little effort, making it easy for you to incorporate them into your daily eating habits. If you thought 100-calorie snacks wouldn't be enough to satisfy your hunger between meals, think again. It's all about packing the most bang for your calorie buck.
Here are the 10 best 100-calorie snacks for weight loss. Read on to learn more, and when you're finished, check out the 8 Inflammatory Foods That Are Giving You Belly Fat.
A delicious food that can be enjoyed smooth or with crunchy bits of peanuts, one tablespoon of peanut butter contains 96 calories. A 2022 study published in Nutrients found that consumption of lightly salted peanuts twice daily before meals led to weight loss. While these results were documented with the use of whole peanuts, similar improvements in glycemic response were noted with peanut butter. To keep your snack under 100 calories, enjoy your tablespoon of PB with low-calorie celery or jicama.
Traditionally made with garbanzo beans, tahini, olive oil, and seasoning, hummus is a flavorful snack ingredient that packs healthy fats and fiber. Two tablespoons of hummus provide around 82 calories, leaving you with a few calories to enjoy your dip with a hearty portion of cucumber, carrots, or bell pepper. Top your hummus with a squeeze of fresh lemon juice and a sprinkle of smoked paprika for a flavor boost that contributes minimal calories.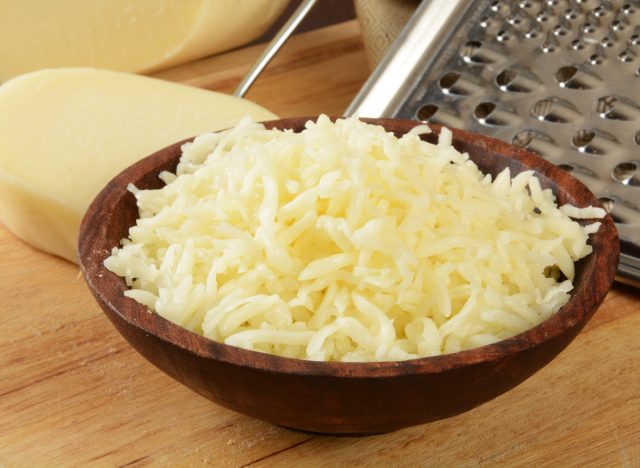 Part-skim mozzarella cheese is a great way to incorporate protein into a snack. Choosing a part-skim option reduces fat in the snack, allowing you a larger portion within a 100-calorie budget. One-third of a cup will provide 85 calories, leaving you with a hearty snack to keep you full between meals. Add some raw veggies on the side to incorporate fiber into your snack, or enjoy a small wedge of cantaloupe with your cheese for an additional 20 calories and some natural sweetness.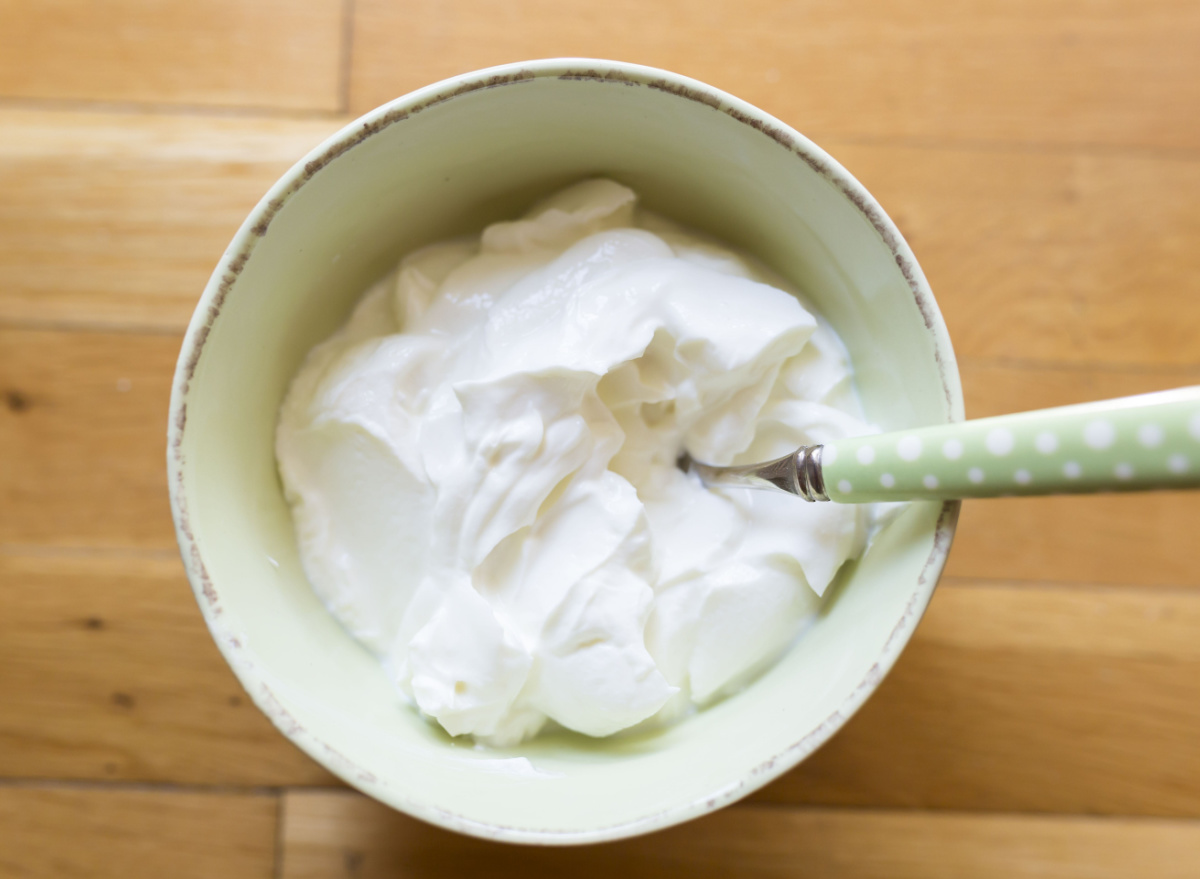 Plain, nonfat Greek yogurt is another snack rich in protein. An individual cup that is about 5.5 ounces contains 92 calories and 16 grams of protein. Add a few berries to round out your 100-calorie snack, and sprinkle with cinnamon for a flavor boost. If you are looking for a savory snack, skip the cinnamon and berries, and instead add ranch seasoning to your yogurt and dip with raw veggies.6254a4d1642c605c54bf1cab17d50f1e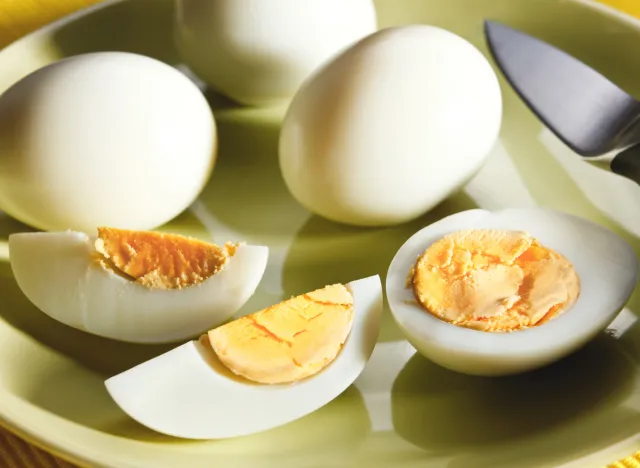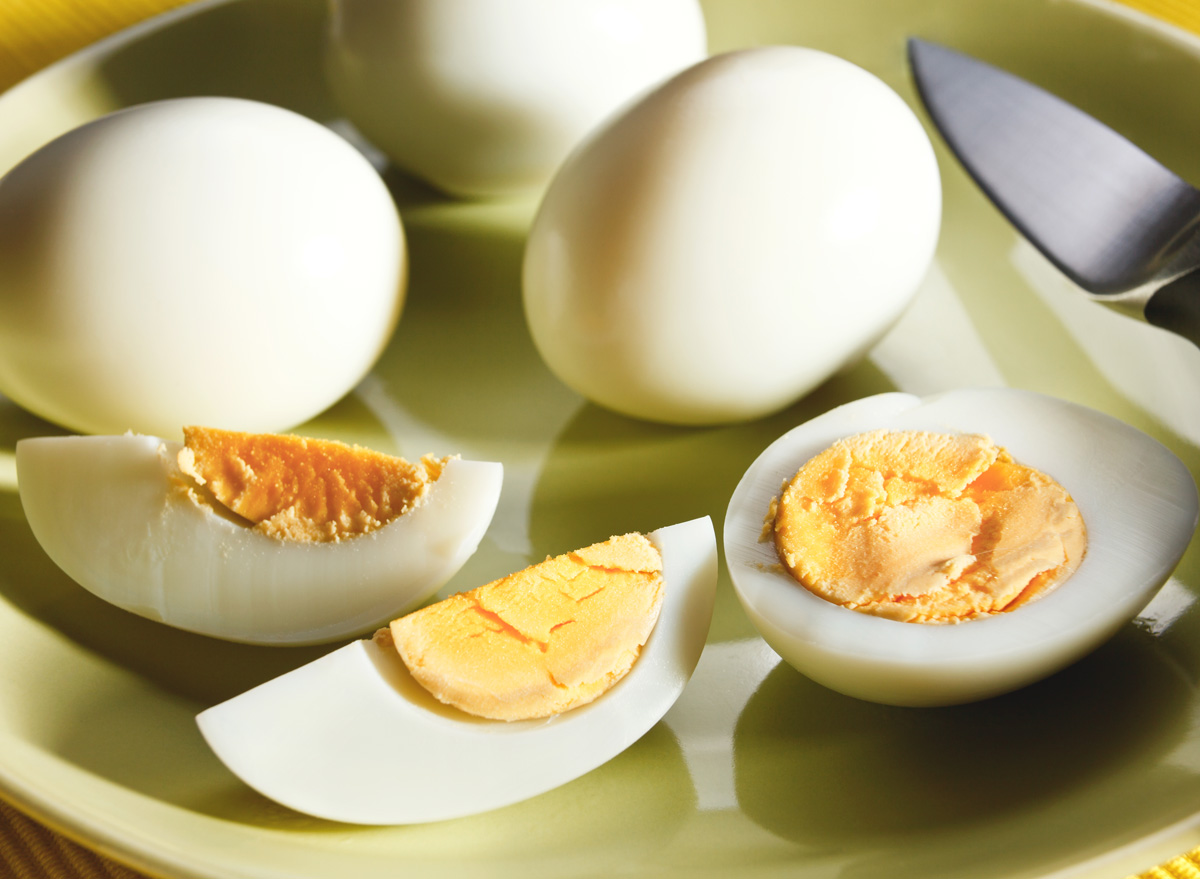 One large egg contains 72 calories which allows you to pair it with another food for a well-balanced snack. Eggs are known for their protein content, and they are also a source of satiating fats. If you are on the go, boil your egg ahead of time, and enjoy it with ¼ cup of blueberries. If you are enjoying a scrambled egg at home, top it with about 2 tablespoons of part-skim shredded mozzarella and hot sauce for a flavorful protein-packed snack.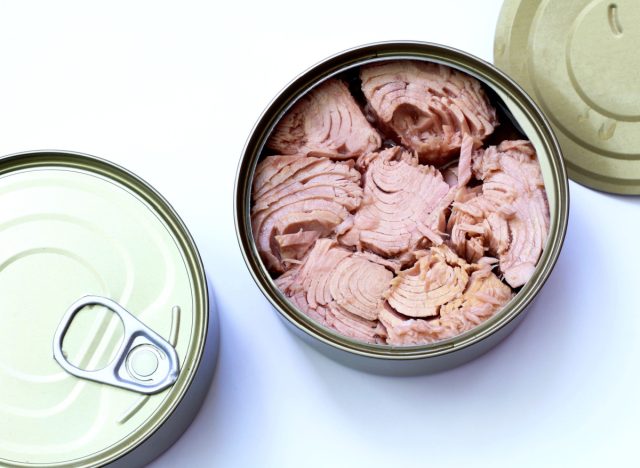 A can (107 grams) of light tuna comes in just under 100 calories. With an impressive 20 grams of protein, this snack will no doubt keep you satisfied until your next meal. Look for flavored pouches for a flavor boost, or purchase plain ones and mix the tuna with your favorite seasonings, hot sauce, or a squeeze of lemon juice. Serve over cucumber slices or in romaine lettuce leaves for a filling 100-calorie snack.
Loaded with healthy fats and fiber, avocado makes for a nutritious snack. One-third of an avocado comes in at 107 calories and can be enjoyed on its own or with simple seasonings. Top with a squeeze of lemon to add some tang to your avocado, or simply sprinkle with sea salt, Everything But The Bagel Seasoning, or a dash of hot sauce for some spice.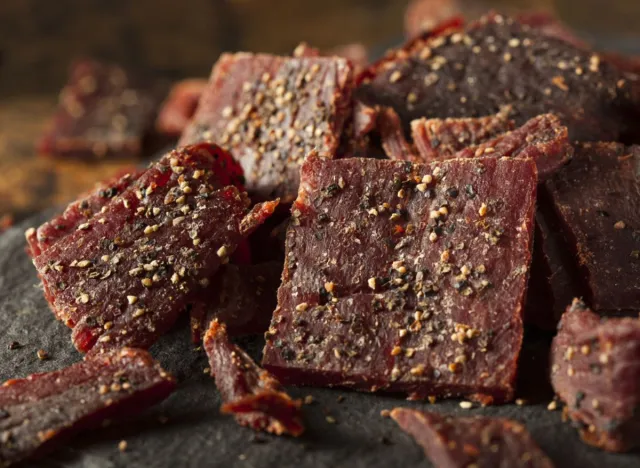 This is a great option when you are snacking on the go and have little availability to prep ahead of time. Jerky is loaded with protein and comes in many flavor varieties. One large piece contains 82 calories and almost seven grams of protein, making it another satiating option. Jerky can be high in sodium, so choose lower-sodium varieties when available. Also, keep an eye out for added sugar, as some varieties may have more than others.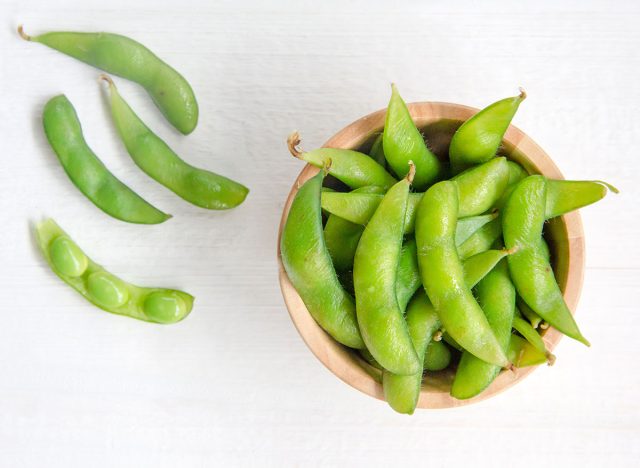 Most vegetables don't contain much protein, but edamame is an exception. A 100-gram serving of edamame pods, which is just under a cup, will provide 109 calories and 11 grams of protein. Dip your edamame in soy sauce, or sprinkle it with sea salt before pulling the beans from the pods. You can purchase edamame pods frozen and allow them to defrost in the fridge overnight before enjoying them as a savory snack. You can also toss your frozen pods into boiling water for a couple of minutes if you're looking to enjoy your snack sooner.
A snack that packs a lot of volume into 100 calories, three cups of air-popped popcorn comes in at 92 calories. While not known for its protein content, three cups of popcorn will provide just under four grams of fiber, giving it a high satiety value. Not to mention, three cups of food will take longer to eat, helping to keep you satisfied until your next meal. Top your bowl of popcorn off with a light sprinkling of grated Parmesan cheese for an additional 10 calories and a great additional boost of flavor.