Everyone has a favorite fast-food burger. The best fast-food burgers are well-priced and come together with a perfect balance of meat (or veggie patty), bun, and toppings. When that balance is off, it can be disastrous and disappointing as is the case with some overrated burgers that disappoint every time.
The elements everyone looks for in a satisfying burger are varied and depend on the type of burger, but a  flavorful patty that drips juices onto the bun and mixes with any sauces to create that perfect savory-sweet is a must. The bun must also be able to absorb the jus and any sauces and keep its structure—a falling-apart bun completely ruins the experience.
The toppings must be well-crafted and fresh. Sad, slimy tomatoes and lettuce can also ruin a good burger, and everyone hates the mess of peeling them off. Cheese needs to be melted and flavorful. And, condiments, like ketchup, mayo, and special sauces, need to complement the burger patty and not overwhelm it. 
Finally, burgers, if large, they should be wide, not high. It "cannot be any bigger than mouth size," says Chef Aidan Mc Gee of the Dubliner Pub in Boston, and he's not wrong. 
Here are the most disappointing fast-food burgers and why, while they may have fans, they're extremely overrated. It's time for these famous fast-food spots need to step up their burger game. 
In-N-Out burgers are superior to everything on the menu at Shake Shack in every way. Shake Shack's burger patty itself is fine, but the toppings, particularly the lettuce that seems to wilt before you've had your first bite and the always underripe tomato, are a big letdown. And, for many, it's tough to overlook the brand's bun scandal in which the chain continued to serve its burgers on Martin's Potato Rolls despite backlash for the company's political leanings. Plus, the chain charges a lot of money for a simple fast-food burger.
This burger is simply ridiculous. With three Whopper-size patties stacked high, this offering from Burger King will barely fit in your mouth. While the stunt of three burger patties is kind of fun, the reality is this sandwich doesn't taste very good. The balance of toppings is off, and all you really taste is three-quarters of a pound of charred meat. Get the single or double, but please, skip the triple.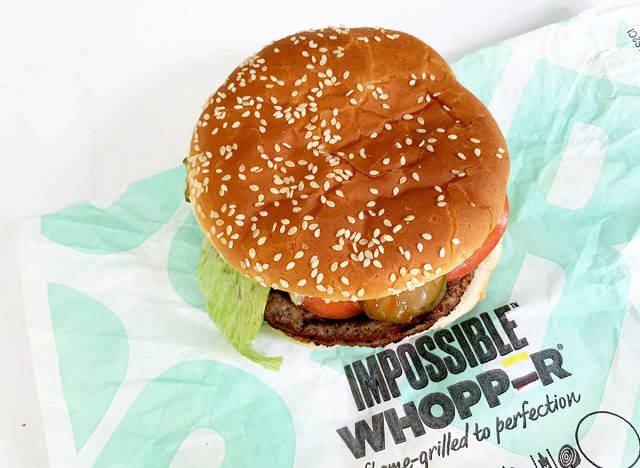 Veggie burgers are great, we're not coming for the vegans or vegetarians here, a plant-based burger can be a great choice for moral, health, or taste reasons. But, to the last point, the Impossible Whopper just doesn't taste that great. First of all, the patty is enormous and overwhelms the bun. The blend of soy protein, potato protein, coconut oil, sunflower oil, salt, yeast, and a variety of emulsifying agents resembles a hockey puck made of glue when eaten. Oh, and the sandwich isn't vegan or vegetarian, as it's cooked on the same grill as the rest of their burgers.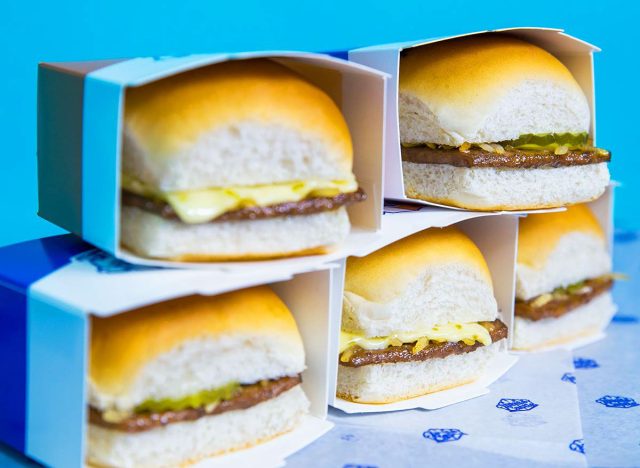 Look, we love Harold and Kumar's wild adventure to get their hands on these tiny little burgers, and a Crave Case definitely hits at the right time. But that time is usually after midnight and a few drinks. If you've tried these soggy sliders in the harsh light of day, we think you'll agree they're pretty overrated. The thin, gray beef patty doesn't have a ton of flavor, so you're basically paying for onions, a pickle, and steamed buns.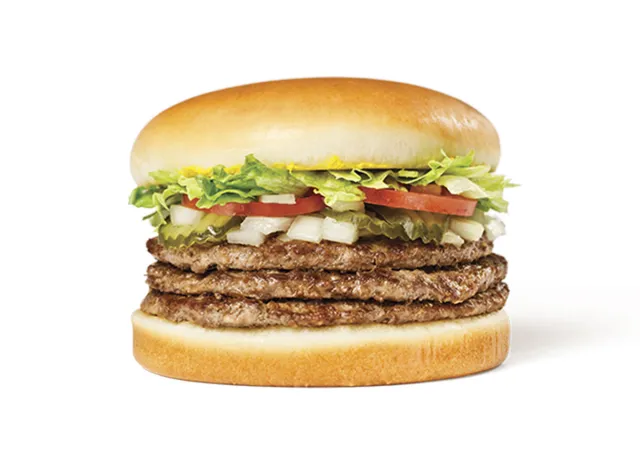 We're huge Whataburger fans, but this meat bomb is way too much for any normal person to enjoy. With three of the chain's five-inch patties stacked high, it's just a lot to try and manage, and unlike sandwiches like the Big Mac, there's no bread in between to balance out the texture. Good luck keeping that center patty in the sandwich and not in your lap. 
This is a perfectly fine burger. Adequate even. But while the chain hypes it as "a burger the way it's meant to be," it falls flat in the execution. The lettuce is a big hunk of iceberg that, unfortunately, gets wilted and slimy easily (team shredded lettuce forever!). The patty also seems under-seasoned compared to the many flavorful burgers available for the same price and convenience. Get the chain's Double Fry Lovers burger instead.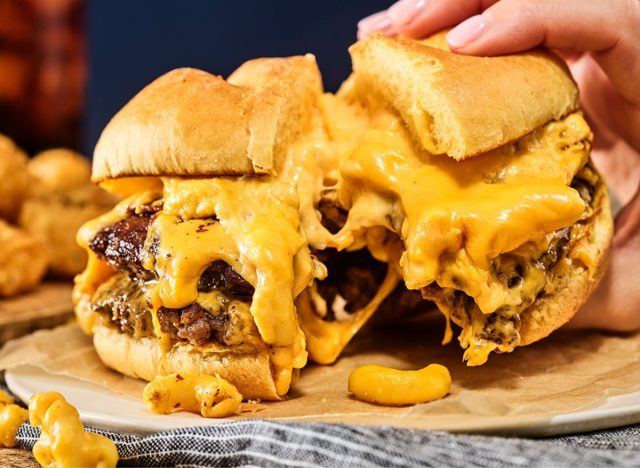 Again, a burger needs to fit in your mouth, and also it's best if kept simple. This is just one example of a stunt burger gone awry. This unhinged concoction is one burger patty, and two slices of American cheese, topped with mac and cheese. There's no way to taste the burger, and frankly if this is your order, just get a grilled cheese sandwich because this is clearly not for burger lovers.
The old-school McDonald's cheeseburger is one of the most craveable of fast-food burgers, but the McDouble seems like overkill of all the good parts of a burger. It's got the chopped onions, pickles, onions, and ketchup on a sesame seed bun, but for some reason, there are two patties, upsetting the texture balance and making the burger too big. The cheese slice is sandwiched between the patties as well, making them slip and slide around, which is not a good look if you're trying to eat this in the car.  6254a4d1642c605c54bf1cab17d50f1e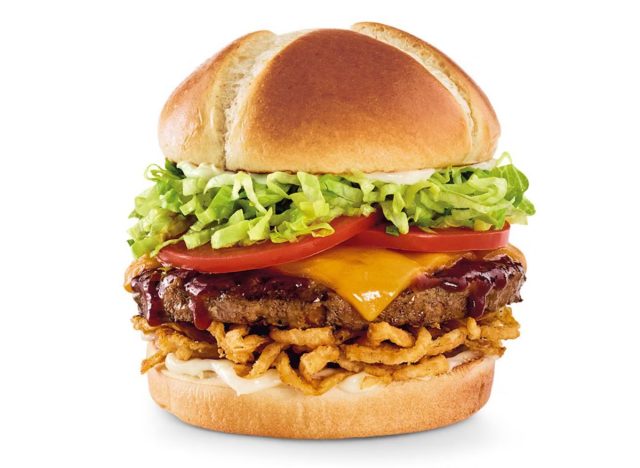 BBQ sauce and burgers are an undeniably tasty combo, but this burger misses the mark by a mile. Red Robin's gourmet menu features burgers with an enormous bun that is just too dry. All the elements are there, but they don't work. The BBQ sauce is a nice touch, but the burger isn't juicy enough to combat the dry bun and the addition of the fried onion straws only exacerbates the weird mouthfeel you get eating this burger.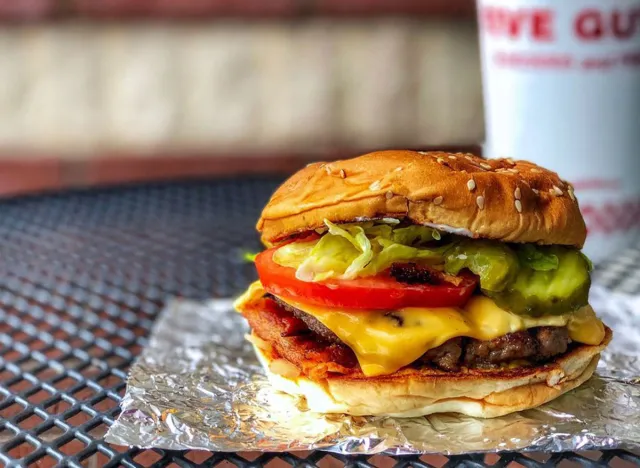 The burgers at Five Guys were one of the first "elevated" fast food burgers a lot of us tried, and they were very good. Unfortunately, in the past few years, their prices have gone beyond what a lot of us are willing to pay for fast food. Our local franchise is asking for over $11 for a simple single cheeseburger. When you add in fries for $6 you might as well go to a full-service restaurant.