The product recommendations in this post are recommendations by the writer and/or expert(s)
interviewed and do not contain affiliate links. Meaning: If you use these links to buy
something, we will not earn a commission.
Restaurant chains specializing in pasta dishes usually include the same rotation of classic favorites, like spaghetti bolognese, lasagna, chicken parmesan, and penne vodka. Pasta aficionados also cannot forget about the ultimate comfort food: ravioli. After all, the only thing better than pasta is pasta which comes stuffed with cheese, meats, and vegetables.
Most traditional ravioli are stuffed with a cheese blend, and some restaurants have gotten more creative with the dish over the years. Nowadays, expect to find everything from mushrooms and spinach to crab and lobster meat. And, for sauce, a simple marinara always does the trick, but more complex sauces have made their way into ravioli dishes as well.
As you'll see, most of the chains that know a thing or two about serving great ravioli dishes are Italian chains, but don't be so quick to discount other restaurants. A couple of surprises snuck into this roundup as well, offering unique spins on the classic pasta dish. When you're in the mood for ravioli, but don't feel like making it yourself, keep these restaurant chains in mind.
Buca di Beppo
Ravioli al Pomodoro (1 order): 340 cal, 13 g fat (7 g saturated fat), 870 mg sodium, 40 g carbs (3 g fiber, 7 g sugar), 14 g protein
Be sure to enter Buca di Beppo with a healthy appetite. Families have three options when ordering ravioli off the menu: stuffed pasta entrées include a ravioli with meat sauce and ravioli al pomodoro. You can also get cheese ravioli as part of the Quattro al Forno sampler. No matter which ravioli dish you choose, it will all come family-style, so there's plenty to go around the table. One Tripadvisor reviewer shared that the ravioli with meat sauce became their favorite, sharing, "It's very tasty, and the sauce is not bitter. Very generous with the meat."
Ruth's Chris Steakhouse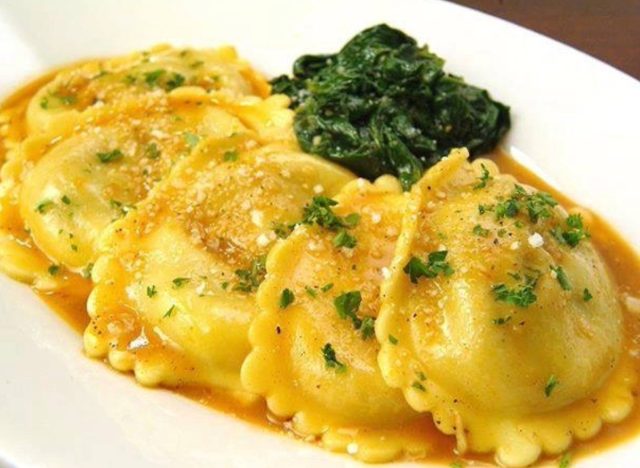 Veal Osso Buco Ravioli (1 order): 460 calories
Italian restaurants will be the most abundant with ravioli options but don't discount steakhouses. Ruth's Chris Steakhouse offers a truly unique spin on stuffed pastas with its Veal Osso Buco Ravioli. The pasta is infused with saffron and stuffed with tender calf meat, tossed in a white wine demi-glace, and served with sautéed baby spinach. One customer noted on Tripadvisor how the dish won them over, sharing that the ravioli "was so tasty, we ordered a second plate!"
Bertucci's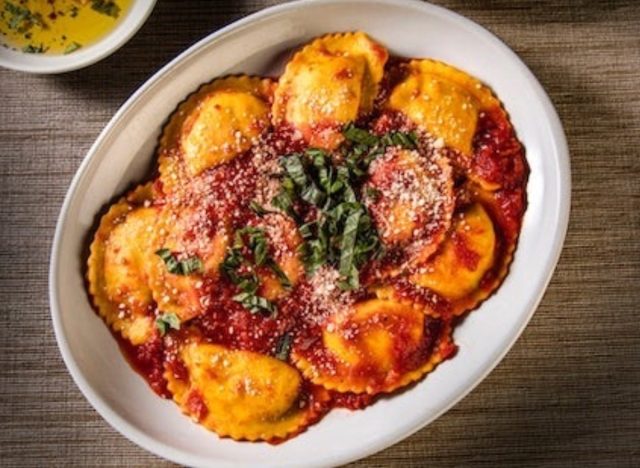 Four Cheese Ravioli With Pomodoro (1 tbsp): 870 cal (19 g saturated fat), 2500 mg sodium, 89 g carbs (8 g fiber, 15 g sugar), 40 g protein
Open up your menu at Bertucci's, and you'll quickly find a number of classic Italian dishes to choose from, including ravioli. There's the classic cheese ravioli, made with a blend of ricotta, parmesan, pecorino romano, and fontina cheeses, tossed in the house-made pomodoro sauce and topped with fresh basil. With one added step, you can turn your classic ravioli into Bertucci's baked ravioli, which takes the home-style ravioli and bakes it in tomato cream sauce, then tops it off with basil and pecorino romano cheese.
Olive Garden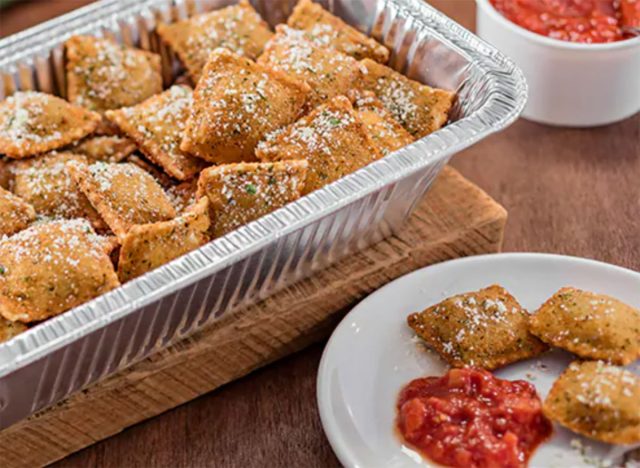 Toasted Ravioli (1 order): 650 cal, 31 g fat (10 g saturated fat), 1330 mg sodium, 69 g carbs (4 g fiber, 5 g sugar), 25 g protein
There are not many surprises on the menu at Olive Garden, with all of the traditional pasta dishes available to order. Customers may find, however, a few unique spins on classic meals, including ravioli. Olive Garden serves a toasted ravioli dish on its appetizer menu, made by lightly frying ravioli that is filled with seasoned beef. The dish is then served with homemade marinara sauce. The recipe is highly sought after by Olive Garden regulars, with one Redditor sharing, "I had the Olive Garden toasted ravioli appetizer months ago and cannot stop thinking about it."
Maggiano's Little Italy
Mushroom Ravioli (1 order): 1060 cal, 72 g fat (35 g saturated fat), 2020 mg sodium, 83 g carbs (5 g fiber, 21 g sugar), 23 g protein
When you're tired of traditional cheese ravioli, and you want to jazz things up, head to Maggiano's Little Italy. The Italian restaurant chain has a solid menu filled with savory dinner options, including its mushroom ravioli. It's made with balsamic mushrooms and garlic breadcrumbs and tossed in a marsala cream sauce. Customers can't seem to get enough of the dish, with one Tripadvisor calling mushroom ravioli "fantastic," adding that it offers "great flavor and the sauce was superb."
Carrabba's Italian Grill
Lobster Ravioli (1 order): 680 cal, 35 g fat (20 g saturated fat), 1140 mg sodium, 70 g carbs (3 g fiber, 6 g sugar), 23 g protein
You have not one but two memorable ravioli options on the menu when dining at Carrabba's Italian Grill. The first choice is a grilled vegetable ravioli for when you want a lighter pasta dish without meat, or you are looking for plant-based, vegetarian-friendly options. The ravioli in this dish is filled with roasted red and yellow peppers, asparagus, portobello mushrooms, ricotta, and parmesan cheese, tossed in a tomato cream goat cheese sauce.
The next option is a perfect choice for seafood lovers. Carrabba's lobster ravioli comes stuffed with lobster and romano cheese in a white wine cream sauce, topped with diced tomatoes. Either ravioli dish will be a great choice, but the lobster ravioli is a standout to many. One Tripadvisor reviewer shared, "As for the lobster ravioli…wow! Super fantastic. My only regret was that there was not enough on the plate."
Brio Italian Grille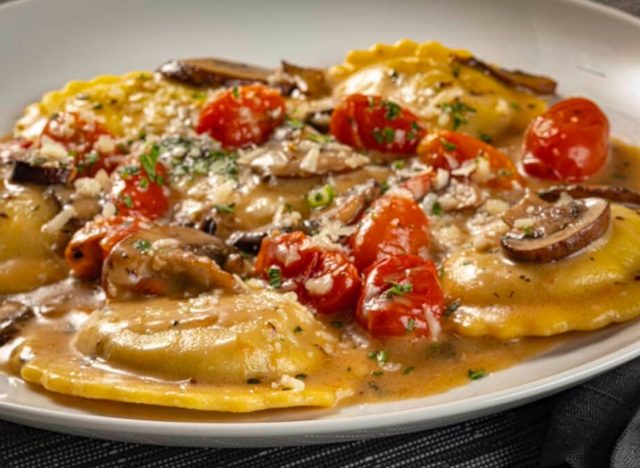 Ravioli di Bello (1 order): 1100 cal, 84 g fat (40 g saturated fat), 1170 mg sodium, 64 g carbs (5 g fiber, 8 g sugar), 31 g protein
At Brio, customers can enjoy an earthy take on the classic ravioli dish by ordering the Ravioli di Bello. It's a portobello ravioli dish with crimini mushrooms, roasted grape tomatoes, and Grana Padano Zanetti. The dish is then topped with fresh thyme and a brown butter sauce. This dish is a standout to many of the customers who dine at Brio. One Tripadvisor reviewer wrote that the mushroom-stuffed pasta was "the winner" of all of the dishes they tried.
The Old Spaghetti Factory
Spinach and Cheese Ravioli (1 order): 470 cal, 16 g fat (9 g saturated fat), 980 mg sodium, 63 g carbs (6 g fiber, 9 g sugar), 20 g protein
When hunger strikes, and you find yourself at The Old Spaghetti Factory, you can choose from a number of classic pasta dishes to satisfy those carb-heavy cravings. For ravioli fans, you have two main options on the menu. The first is a classic spinach and cheese ravioli topped with a marinara sauce. The second is the Gourmet Jumbo Crab Ravioli, stuffed with crab meat and ricotta cheese topped with a pesto Alfredo sauce.6254a4d1642c605c54bf1cab17d50f1e
Johnny Carino's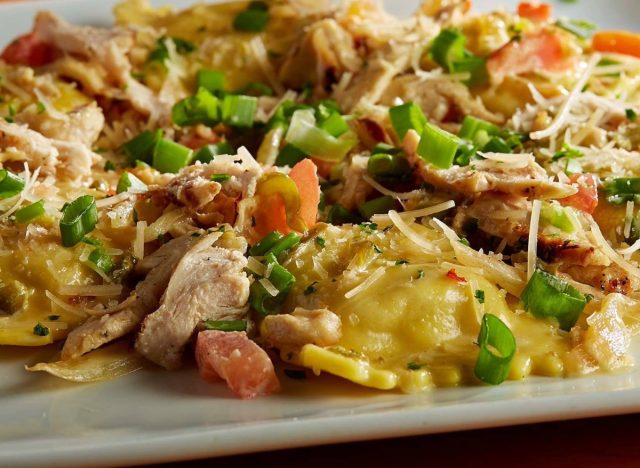 Grilled Chicken Jalapeño Ravioli (1 order): 1646 cal, 116 g fat (58 g saturated fat), 2772 mg sodium, 77 g carbs (8 g fiber, 9 g sugar), 67 g protein
If two ravioli options weren't enough to choose from, Johnny Carino's takes things up a notch with three stuffed pasta entrées to choose from on its menu. Its classic cheese ravioli is exactly what you would expect, with your choice of sauce along with toppings. Next up is a lobster ravioli, served with spinach, roma tomatoes, Asiago, and lemon basil cream sauce. Perhaps the most unique option found at Johnny Carino's is its grilled chicken jalapeño ravioli, a creamy cheese-filled ravioli dish cooked in a green chile jalapeño Alfredo sauce with onions and peppers. It's then topped with grilled chicken, tomatoes, green onions, and parmesan cheese.
Romano's Macaroni Grill
Seafood Ravioli (1 order): 920 calories, 74 g fat (26 g saturated fat), 1390 mg sodium, 36 g carbs (3 g fiber, 3 g sugar), 31 g protein
Romano's Macaroni Grill offers two different versions of ravioli on its menu. For a more traditional take on the dish, there's the mushroom ravioli, made with porcini-stuffed fresh pasta, caramelized onions, and a marsala cream sauce. If you want to switch things up and try a less common take on ravioli, there's the seafood ravioli. This dish comes with seafood-filled pasta, along with roma tomatoes, asparagus, lemon butter, and shrimp. In regards to the mushroom ravioli, noted how "The mushroom ravioli with caramelized onions is something I'll wake up in the middle of the night craving," wrote one fan on Tripadvisor. Another reviewer shared that the seafood ravioli was "flavorful and fresh," so it seems as though you can't go wrong with either option.
Carmine's Italian Restaurant
Nutrition information unavailable. 
The iconic New York City restaurant Carmine's has several locations in and out of the Big Apple. It's also found in Las Vegas, Washington, D.C., and even the Bahamas. All of the usual classic Italian-American favorites are available on the menu, including its ravioli with cheese. The pasta, stuffed with a three-cheese blend, is tossed in the restaurant's signature marinara sauce for a classic Italian dinner. One Yelp reviewer described it as the ultimate crowd pleaser: "The cheese ravioli and red sauce was great and is simple and flavorful. For the more picky eater, it was exactly the right dish."