The product recommendations in this post are recommendations by the writer and/or expert(s)
interviewed and do not contain affiliate links. Meaning: If you use these links to buy
something, we will not earn a commission.
From bacon and cashews to coffee and olive oil, Costco's Kirkland Signature product line has earned a reputation for great quality items at only a fraction of name-brand prices. That value extends to the booze aisle, with Costco solidifying its place as North America's biggest retailer of alcoholic beverages.
In the 2022 fiscal year, the big box retailer sold $6.5 billion in alcoholic beverages. According to Forbes, about half of those sales were wine, a quarter spirits, and a quarter beer.
Costco doesn't actually produce its signature spirits. It sources directly from big-name producers and offers booze at a better value to consumers, much like its private-label wines. While the spirit selection at Costco will vary throughout the year, shoppers can expect to find about 20 bottles bearing the Kirkland Signature brand. (Whisky drinkers, take note: as of 2021, Costco carried a whopping 10 whiskies under the Kirkland brand.)
Costco's booze has even inspired the TikTok series "Can it Kirkland?" in which five members of the band Never Ending Fall compare name-brand alcohol to its Kirkland Signature counterpart. If most of the bandmates can't tell the difference between the two, then it "can" Kirkland. (Booze that "can" Kirkland? Spiced rum, French vodka, dry gin, small batch bourbon, among others.)
And when it comes to quality, booze experts are impressed, too. "Kirkland alcohol picks are one of the best sourced alcohol in the United States," says Adam Levy, founder of The Alcohol Professor, an online website dedicated to wine, beers, spirits, and cocktails. (He also founded the annual New York International Spirits Competition. He knows spirits!)
"The Kirkland portfolio has no duds. All of their selections are solid winners to me," says Levy. "They often exceed the quality of most of the big brands' portfolios."
(While alcohol is not offered at Costco stores nationwide, spirits retail in 31 states and the District of Columbia, according to VinePair. Check out this handy map to see whether your local warehouse sells spirits.)
With that in mind, we asked Levy and three bartenders, cocktail aficionados, and spirits experts for recommendations on the best Kirkland branded liquor to pick up at Costco. Here are their top seven picks:
Rumors that Kirkland's Signature French vodka is actually just relabeled Grey Goose have been circulating on the internet for years. It's not—Grey Goose has officially put that myth to rest. Still Kirkland's French vodka is a fan favorite and it has held up in taste tests. (The Kitchn pitted it against Ketel One and Grey Goose and Kirkland's came out on top.) Even if it's not Goose, it retails for about a third of the cost: about $20 to $25 for 1.75 liters.
Joe Bruno, owner and director of American Bartenders School, has 35 years experience in the nightlife industry. He's run some of the most famous (and infamous) nightclubs in New York City's history. Given the buzz about Kirkland branded liquors, he's made it a point to try them out and see how they stack up to big name brands.
"Quite honestly, as a blanket statement, I'm a fan," Bruno says. "The time and attention they put into sourcing adequate representations for each category is a smart effort, especially considering how incredibly economical their pricing compares."
Bruno blind-tested Kirkland's French vodka and was pleasantly surprised by the results. "Unless you have an overly discerning palate, most will find this to be an adequate substitute for Goose. I see why the comparison leads to this assumption," Bruno says. "The flavor profile and mouthfeel is pretty damn close."
Kirkland's Kentucky bourbon is sourced from Barton 1792 Distillery, a subsidiary of the popular Sazerac company, which is known for its Buffalo Trace bourbon. "This is an amazing value for its price point, especially when you compare it to a Bulleit Bourbon," Levy says.
One online reviewer says this is the bourbon bargain of the year, ringing in under $30. Bourbon sour, anyone?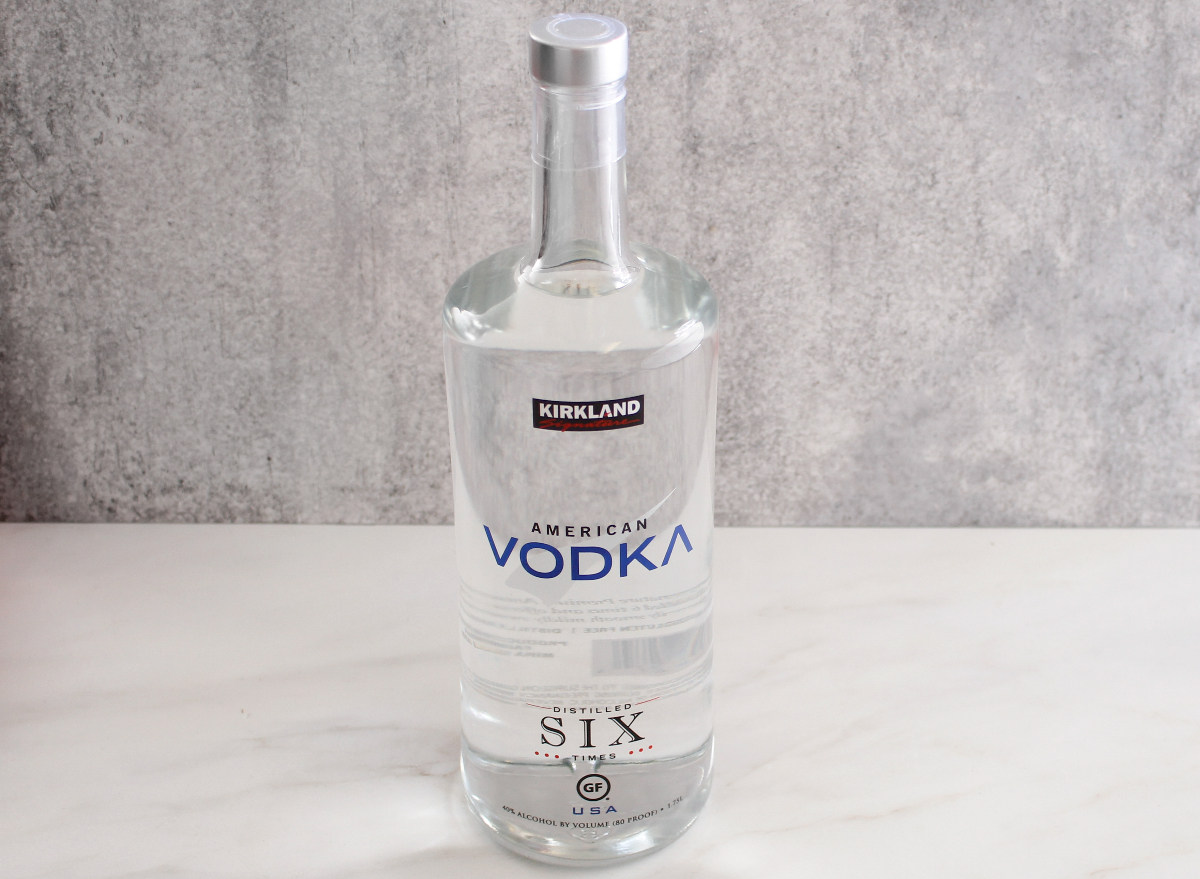 Leah Hall, founder of Gastronom Cocktails, has been developing cocktail recipes for more than a decade, and she has spent years managing bars. She offers a nuanced take on Kirkland spirits in general: "Some compare to big name alcohols almost step by step, but some fall flat," she says. "Overall they can be a great choice for the base alcohols in cocktails, especially in large batch forms."
Hall uses Kirkland's American vodka for infusions and to keep simple syrups longer. "The Signature American Vodka tastes like many name brand vodkas," she says. "Any vodka lover will be happy with it. We made a homemade strawberry vodka with it, as well as a DIY caramel vodka."
Bruno is on board with this vodka, too. "This corn-based American vodka is a solid contender and a fraction of the price of its best-selling French counterpart," Bruno says. It retails around $14 for 1.75 liters, so there's really no downside to trying it out.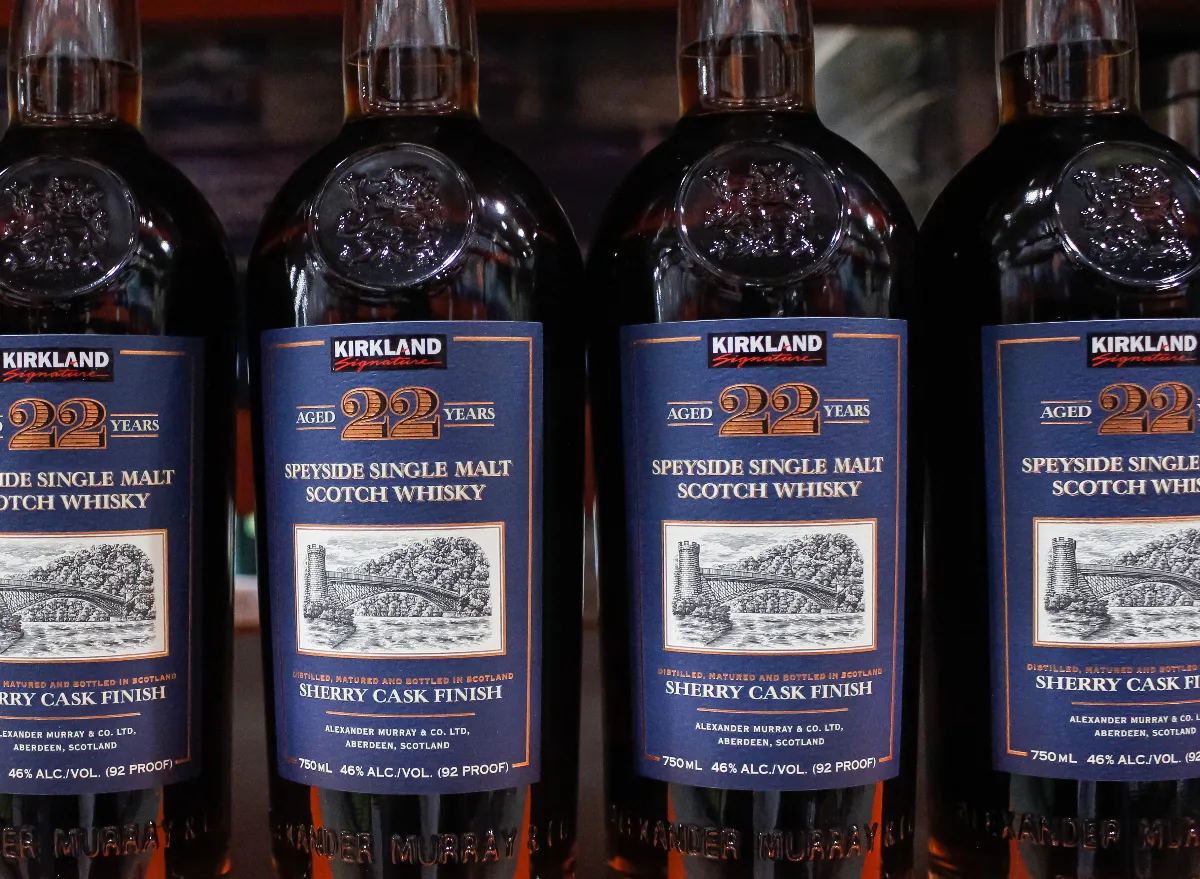 The Kirkland Speyside Scotch is a real winner among all of our experts. It's a true Scotch aged for 19 years, which makes serious Scotch-drinkers wonder whether it's any good. Our experts say, yes—it is definitely worth it for around $70. "This was exceptional," says Bruno. "Worthy of being sipped neat with a drop or two of water to open it up on a molecular level."
Levy agrees. "I would strongly recommend all the entry level spirits to be used for cocktails and simply with a large cube of ice," Levy says. "The value is there and you just can't go wrong. This comes from a major distiller and it's a better value of overall taste and finish from most of their portfolio."
Jay Hall, co-founder of Gastronom Cocktails, along with wife, Leah, says it's a great sipper and great for mixing. "We really like it, and for around $70, it is a great price point," he says. "It would also make a great gift."
Alexander Murray, one of Scotland's leading independent bottlers, makes this Scotch. The California-based company helps customers like Walmart, Costco, and Total Wine & More create their own label whisky. One online reviewer says it is worth every cent.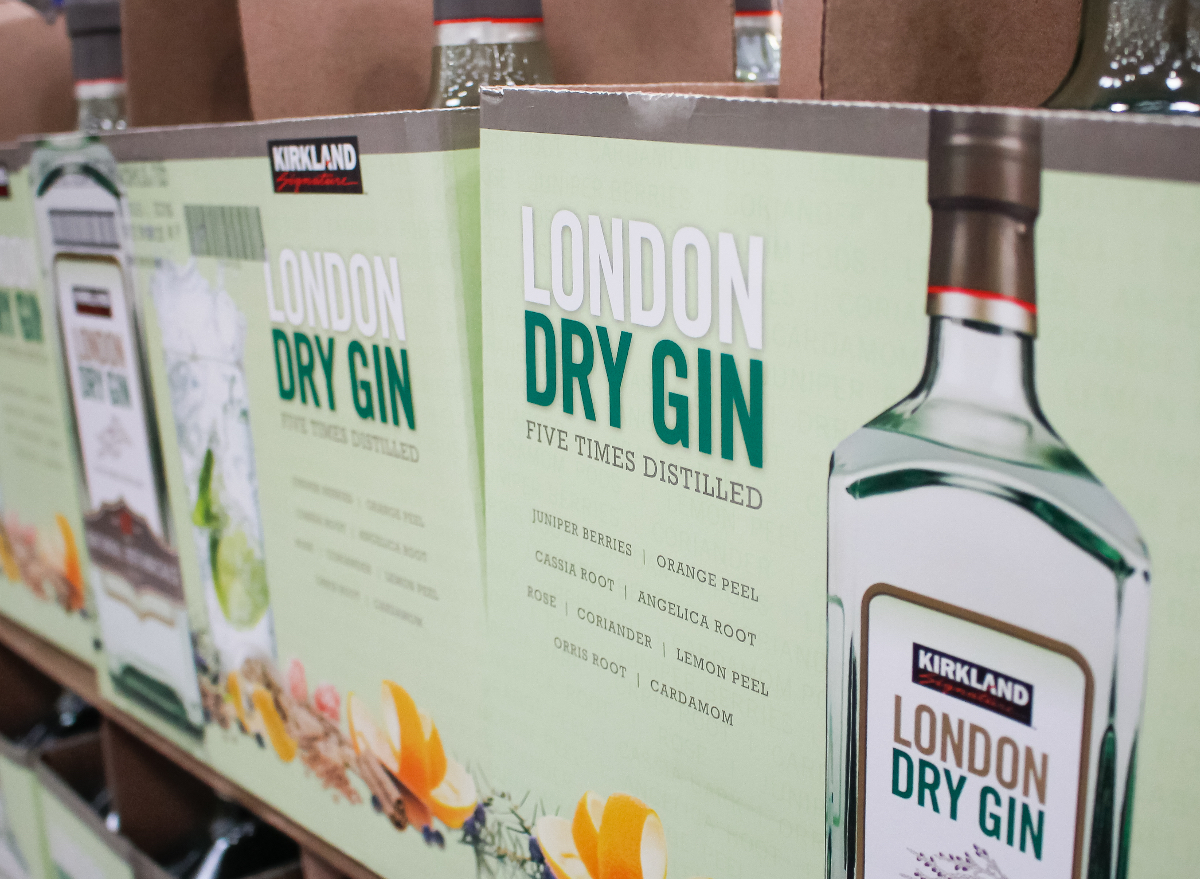 A juniper-heavy gin with notes of coriander, orange peel, and cassia bark, Costco's dry gin is worth adding to your bar cart. Bruno recommends sipping this neat with a bit of water. "This has a fine mixability like a Gordons, Tanqueray, or Beefeater," he says. "Perfect for a low rent martini or gin and tonic." (And yes, it "can" Kirkland.)6254a4d1642c605c54bf1cab17d50f1e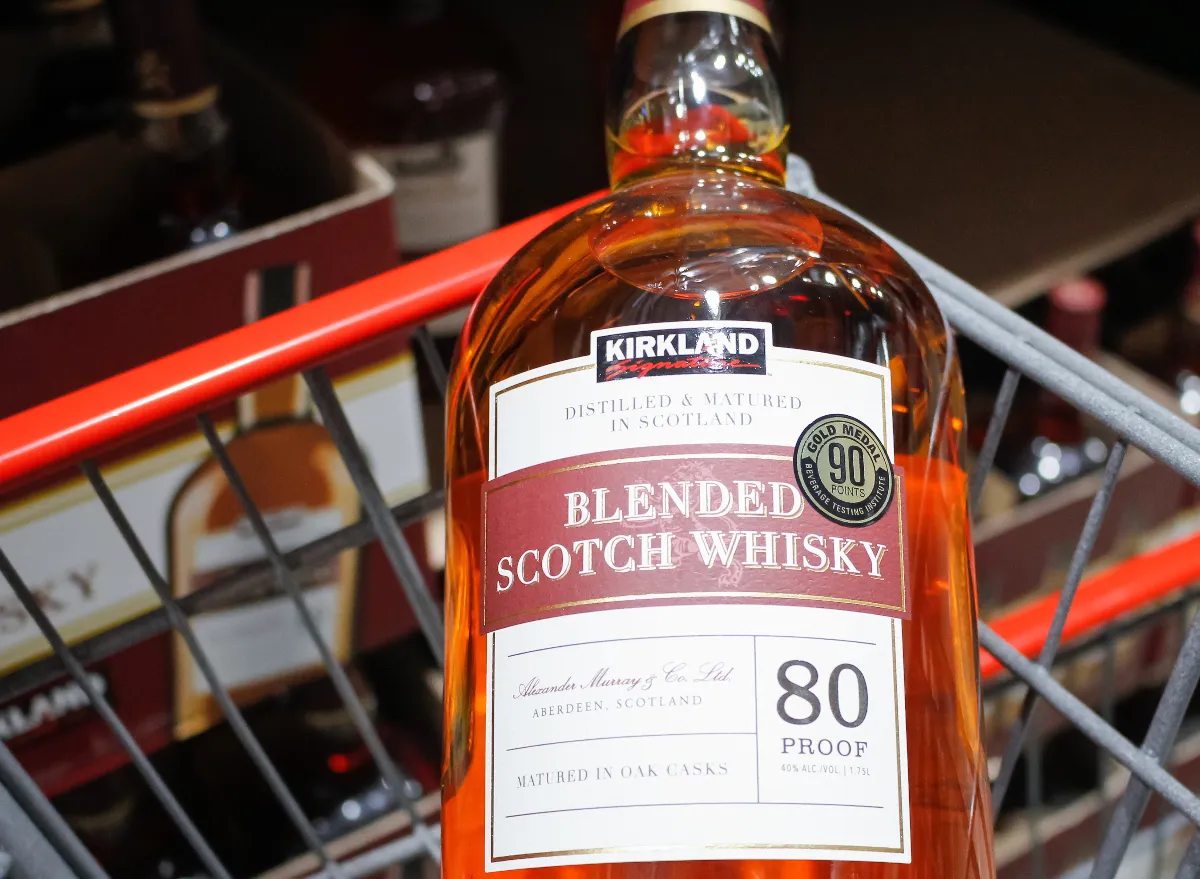 Sipping this Kirkland bottle, some Scotch-drinkers may be reminded of Dewar's, the best-selling blended Scotch whisky in the U.S. That's by design, according to Forbes, "Alexander Murray's blenders have deliberately crafted a facsimile of the aroma and flavor profile of Dewar's."
For around $25, experts say this Scotch is exceptionally well-priced. "The blended Scotch is on par with brands like J&B Scotch or Dewar's," Bruno says. "Great for a quick rocks drink or mixed cocktail."
Levy says this bottle is great for cocktails or to bring to a party. (Just make sure there aren't any serious Scotch-drinkers there who might look down on you for pouring it, he jokes.)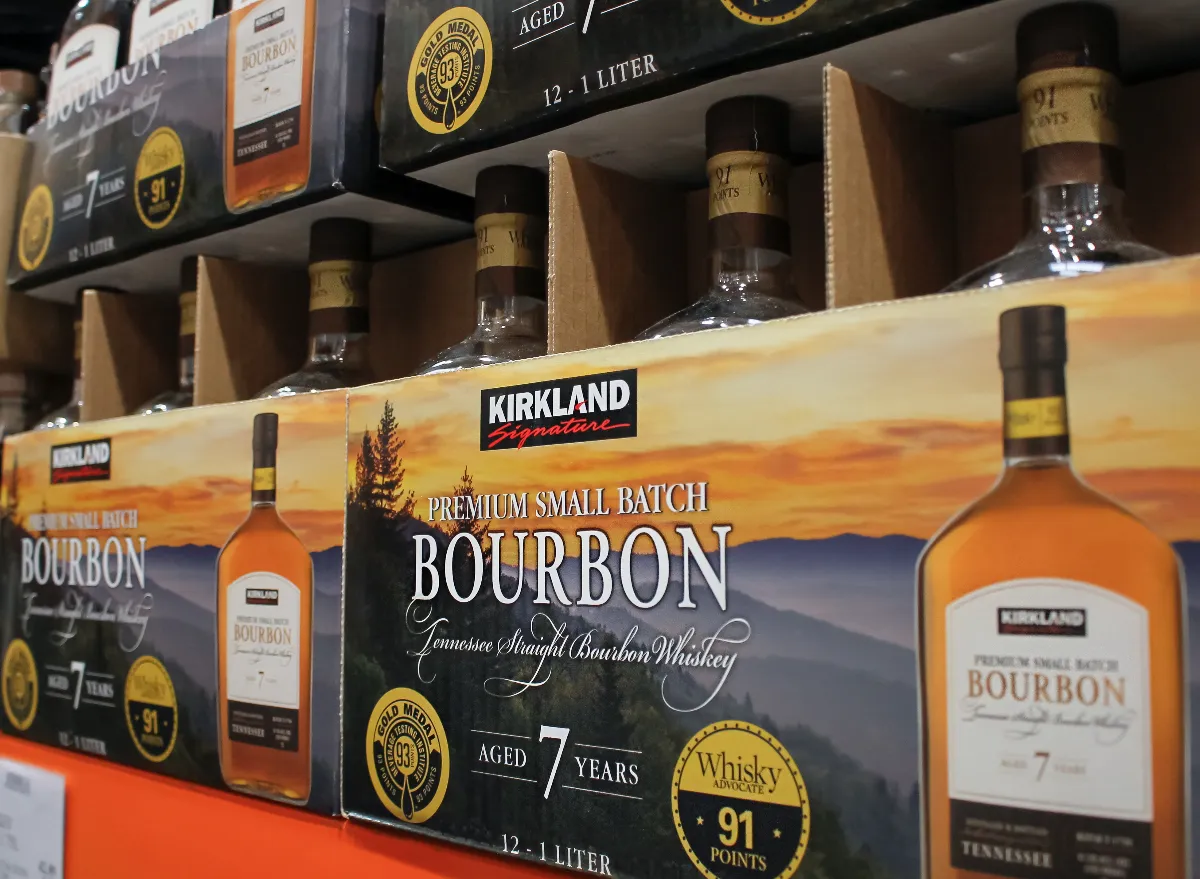 Here's another Kirkland bourbon worth trying, a small batch version. "The small-batch bourbon is a little young, but has great toasty notes and is great for cocktails," says Leah Hall. "We also like the bourbon for infusions, but feel it works really well in mixed drinks like our Bourbon Peach Sour or our Bourbon Cherries."