For every restaurant in the United States that sees massive success, there are others that struggle or fail to stay afloat and end up closing. If you need proof, just look at the data. There were 703,000 restaurants in the country in 2019, but reports from food service industry research company Technomic indicate that there will be less than 630,000 locations by the end of this year.
Soaring costs for food, labor, and other commodities, as well as traffic declines during COVID-19 pandemic that continue to negatively impact certain chains today, have contributed to a growing pool of restaurant closures in recent years. Even the most familiar and established restaurant brands, including Red Lobster, TGI Friday's, and Applebee's, haven't been immune to these financial pressures.
However, restaurant closures aren't always a sign that a business is in poor health. Some of the closures this year have stemmed from legal issues between a restaurant franchisee and the larger company. Occasionally, the closures are even strategic moves aimed at allowing the company to expand bigger and better than before.
Whatever the reasons, consumers may have a harder time finding some of their favorite chain eateries this year. Here are seven restaurant chains that are closing or plan to close multiple locations in 2023.
Steak 'n Shake has been shrinking gradually for years, and 2023 is no exception. The beloved regional burger chain–which is primarily located in the Midwest–has struggled in recent years amid complaints about its service and quality and came precariously close to declaring bankruptcy in 2021.
According to a recent report from Steak 'n Shake parent company Biglari Holdings, there were 493 Steak 'n Shake restaurants as of March 31, 2023, a decline of 41 units from the Steak 'n Shake's 534 restaurants in March 31, 2022. The decline is even more severe when you look back further than 2022. Per QSR, Steak 'n Shake ended 2018 with 626 locations, so the chain is now down more than 130 restaurants in less than five years.
Despite the continuing closures, the company did manage to turn a profit in 2022 and isn't tapering its goals to be the best brand in the business.
"Our aim is to be the most productive, hospitable restaurant company in the industry," Biglari Holdings CEO Sardar Biglari said in a February 2023 letter to shareholders.
In one of the most severe entries on this list, a major Hardee's franchisee declared bankruptcy last week following the closure of a whopping 39 restaurants. The franchisee, Summit Restaurant Holdings, once ran 145 locations throughout the South, Midwest, and West, but its unit count is currently down to 108 restaurants, Restaurant Business Magazine reported.
The first sign of Summit's troubles came in late April as local news outlets began reporting a string of recent Hardee's closures throughout the South and Midwest, including some that were reportedly operated by the now-bankrupt franchisee.
Restaurant Business Magazine, citing court documents, reported that Summit faced traffic declines during the COVID-19 pandemic and struggled from the elevated food and labor costs that have plagued the wider restaurant industry.
Summit's remaining restaurants will hopefully meet a better fate than the ones that were shuttered, since Hardee's parent company CKE Holdings said that they expect a qualified buyer to purchase the locations. In the meantime, those restaurants will stay open and continue to serve guests.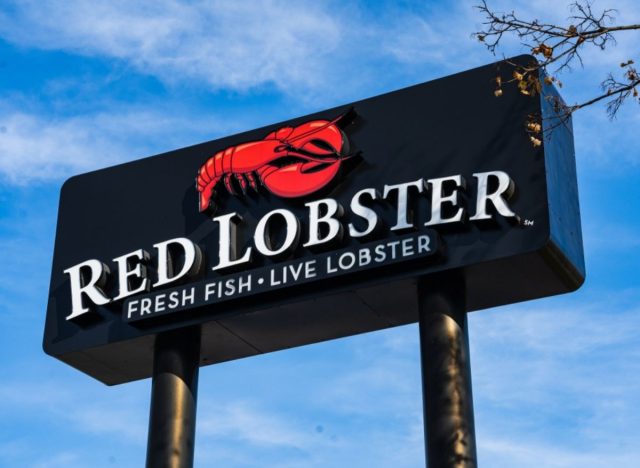 Since its opening in 1968, Red Lobster has been serving up fresh lobster, baskets of cheddar bay biscuits, and endless shrimp platters for customers across the country. While the chain prides itself on affordable seafood for everyone, the restaurant has struggled significantly in recent years and shuttered several once-successful locations. 
The seafood joint previously had over 700 restaurants globally, but that number has been dwindling. In 2021, Red Lobster lost five units, and in 2022 through 2023, the chain shuttered eight more.  
Even though these closures only account for 1% of Red Lobsters' widely spread locations, the trend could continue in 2023. The Thai Union Group, who owns Red Lobster, said the closures have all been in the best interest of the chain as a whole and asserts that they are not the beginning of the end for the company. 
"We regularly review our restaurant portfolios as part of the normal course of business," a Red Lobster spokesperson told Restaurant Business Online. "As a result, we have concluded that these locations are no longer viable for Red Lobster."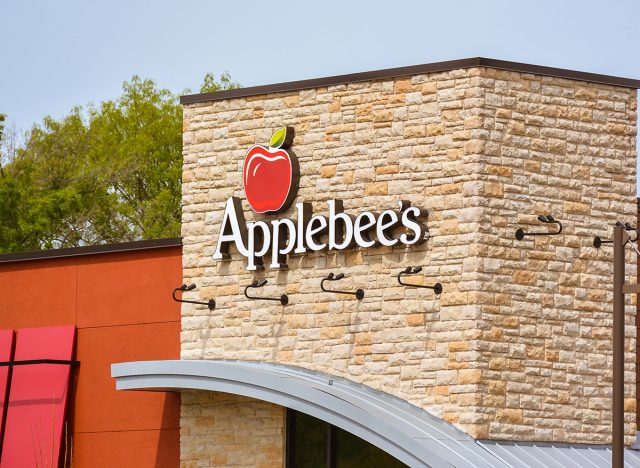 Applebee's late-night half apps savings and creatively festive cocktails haven't quite paid off enough, as the restaurant chain has had to shut down several U.S. locations in recent years. The losses began in 2017 and, although the company had said to have big plans for a turnaround in 2023.
What started as nine store closures in 2022, and the addition of four new locations, has now escalated. By the end of this year, the parent company Dine Brands anticipates that Applebee's is looking at between 10 and 20 fewer restaurants in the U.S., coming as a result of low profits and expansion plans not seeing enough success. 
"It's not where we want to be in the future," explains Applebee's president Tony Moralejo, in a recent earnings call. But, he says there are plans to "work closely with franchisees to create new financially attractive development opportunities for the entire Applebee's system."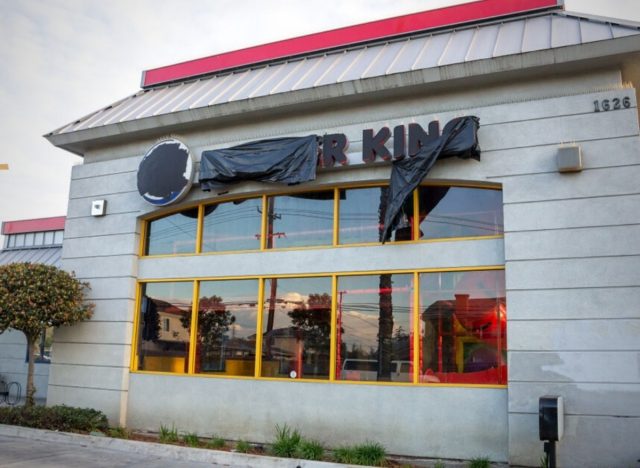 Despite the aggressive push to revamp the brand with its $400 million "Reclaim the Flame" initiative, Burger King has seen a few franchisees fail. In April of 2023, franchisee EYM King had to close down 26 restaurant locations in Michigan after Burger King sued it for allegedly failing to pay required royalties, ad fund payments, and other charges, Restaurant Business Magazine reports. 
Another Burger King franchisee that declared bankruptcy in March, Meridian Restaurants Unlimited, revealed in court filings last month that it is closing 27 Burger King locations across Minnesota, Utah, Montana, Kansas, Nebraska, and North Dakota. The company hasn't ruled out closing even more restaurants further down the road, though it said it doesn't expect to shutter "all or even a substantial portion" of its locations.
The loss of EYM King's and Meridian's add to the six other Burger King closures that occurred at the end of 2022. These units were owned by TOMS King LLC, one of Burger King's largest franchisees. Burger King has seen a challenging 15 years, according to Restaurant Business, with stagnant sales, aging restaurants, and being unable to keep up with the competition.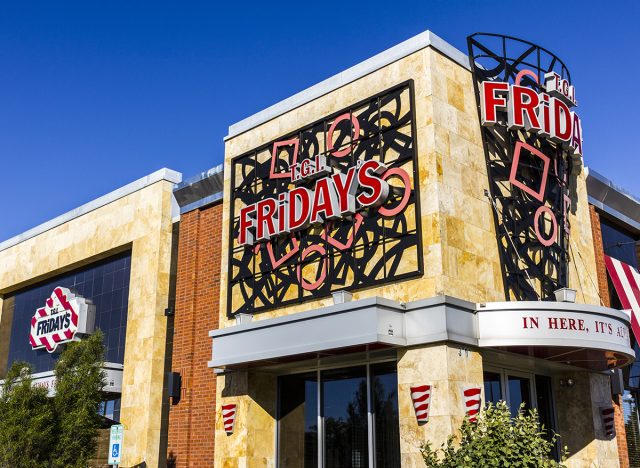 TGI Friday's, which got its start in the 1960s, saw 20% of its restaurant close during the pandemic and will have more in 2023.  The "Every Hour is Happy Hour" sit-down chain is currently only operating 289 locations, after having closed more than a handful of units in 2022. Multiple TGI Friday's locations in Massachusetts and Texas also announced their permanent closures in February 2023. The chain, however, is planning to expand internationally, having struck a deal to open 75 new TGI Friday's locations across South and Southeast Asia.6254a4d1642c605c54bf1cab17d50f1e
Despite record sales in 2022 and an exciting partnership with McDonald's, Krispy Kreme still plans to close  14 locations in 2023. These closures are more of a pruning of low-performing stores rather than signs of widespread company issues.
The chain also lost 10 units in 2022, as a result of the restaurants' inability to bring in viable profits and customer traffic. The closures seem to have the desired effect as the chain generated $1.52 billion in net revenue by the end of the year. The brand is seeing success from trying to hone in on quality over quality and still has faith in the current business model. 
"We remain very confident in our long-term goal of achieving more than 50,000 points of access globally," Krispy Kreme president and CEO Mike Tattersfield said in a 2022 earnings call. This will include the "hub-and-spoke" business model—where larger locations complete with donut production facilities called "hubs" ship out donuts to smaller shops called "spokes"—to perfect the art of donut freshness and customer satisfaction.
A version of this story was originally published in April 2023. It has been updated to include new information.