Discover the power of detox smoothies! Uncover the incredible benefits of these nutrient-packed beverages for cleansing and rejuvenating your body. Get ready to revitalize your health with our selection of delicious detox smoothie recipes that are easy to make and bursting with goodness.
Of all the trending "it" terms having to do with health, "detox" is often at the top. It's a shortened word for "detoxification," which is a method involving the removal of potentially harmful substances from the human body. 
Believe it or not, all sorts of toxins are floating through our bodies, including heavy metals, pesticides, air and water pollutants and smoke or alcohol if we use either of those substances. Over time, these toxins can build up to alarming levels and lead to a myriad of health issues, including heart disease, stroke, diabetes, Alzheimer's and even cancer, per research published in the journal Interdisciplinary Toxicology. "Detoxification is important for overall health because if the body were to become overloaded with toxins it could lead to inflammation which in turn will cause a whole host of problems," explains Jeanette Kimszal, RDN.
It's important to note that our body has its own detoxification system, which includes our digestive tract, kidneys, lungs, liver, lymphatic system, respiratory system, and skin. "All of these organs help break down chemicals that our bodies eliminate through the urine, feces, sweat, and breathing," explains Emma Laing, PhD, RDN, director of dietetics at the University of Georgia and a national spokesperson for the Academy of Nutrition and Dietetics. 
There are, however, several ways in which we can help facilitate and further our detoxification efforts, and one of the healthiest and easiest routes is through incorporating nutrient-dense foods. 
The Benefits of Detox Smoothies
"Detox smoothies" combine key detoxifying foods together in a liquid form that's easy to drink, allowing us to consume nutrient-dense foods in a short period of time. "Detox smoothies that are high in fiber from fruits, vegetables, grains and seeds help soak up excess cholesterol in the body, support digestion through regularity and provide us with essential nutrients," explains Emily Tills, RDN, virtual nutrition coach in New York. "For those that have a hard time eating enough fruits and vegetables, smoothies are going to be a great and refreshing way to increase our intakes while providing the essential nutrients."
Easy to Digest
Smoothies make food easily digestible, since it removes the role of chewing our food, known as mechanical digestion. With smoothies, we skip mechanical digestion and go straight to chemical breakdown, once it reaches our stomach. "A blender does the work for you with smoothies, as the mechanical part of breaking down the fiber is nearly complete before it even hits your mouth," says Nicole M. Avena, Ph.D., Assistant Professor of Neuroscience at Mount Sinai School of Medicine and Visiting Professor of Health Psychology at Princeton University and author of What to Eat When You Want to Get Pregnant. "This can help with the absorption of more nutrients during digestion."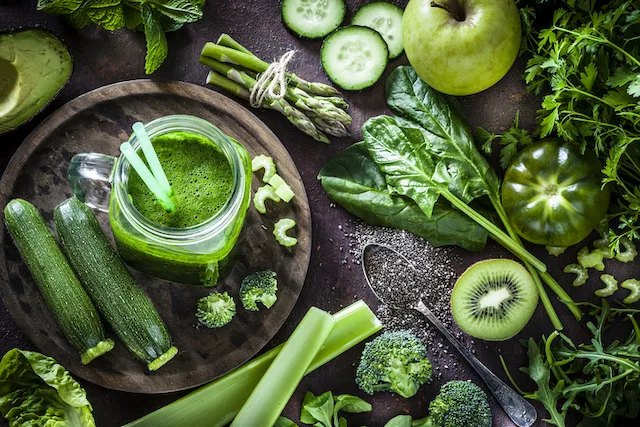 Smoothies also tend to contain a great deal of antioxidants, mostly by incorporating berries. Not only do these help ward off free radicals from the body that could potentially lead to cellular damage, but they also help improve energy.
Detox Smoothie Recipes
Detox smoothies are easy to make, but involve a little knowledge to help ensure you're using the right nutrients and combinations for your desired results. Here, nutrition pros share their favorite detox smoothie recipes. 
Digestive Smoothie
Ginger is a great ingredient to use to help aid digestion, as it is known to ease an upset stomach. "Its digestive actions may serve to cleanse build-up of toxins in the colon, liver, and other organs making it a great addition to a smoothie," says Dr. Avena.
Ingredients:
½ cup peeled ginger root
½ cup frozen pineapple
¼ cup frozen or fresh avocado
1 cup spinach
1 tbsp honey (or agave, if vegan)
Water or coconut water to blend (preferred amount)
Directions: Peel your ginger root and dice it into cubes. Measure out the rest of the ingredients and blend together until smooth.
Skin Health Smoothie
If you're looking to improve your skin health, you can combine collagen, the most abundant protein found in your body, with some nutrient-dense ingredients like antioxidant-rich blueberries and flax seeds as well as banana for a potassium boost. 
Ingredients: 
1 scoop collagen (bovine, fish, or plant-based)
1/3 cup frozen blueberries
½ frozen banana
½ cup plain Greek yogurt (coconut yogurt if vegan)
1 tbsp ground flax
Water or coconut water to blend (preferred amount)
Directions: Measure out all of the ingredients and blend together until smooth.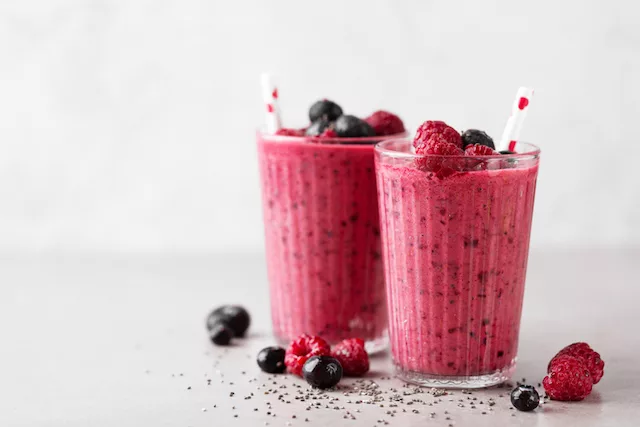 Immune Support Smoothie
Dr. Laing recommends eating 5 or more servings of fruit and vegetables per day to provide ample vitamins and minerals and to support a healthy immune system. This smoothie recipe encompasses more than one serving in a single drink.
Ingredients: 
½ orange (peeled)
½ frozen banana
½ peeled ginger root
¼ cup carrot juice
½ cup plain Greek yogurt (coconut yogurt if vegan)
1 tbsp honey (agave, if vegan)
Add water for consistency if needed to blend
Directions: Measure out all of the ingredients and blend together until smooth.
Energy Smoothie
This smoothie incorporates a good blend of antioxidants, fiber, potassium, potassium, and magnesium. Depending on the amount of protein per serving it could also be a good source of protein, which provides you with serious energy. 
Ingredients:
1 cup of frozen mixed berries (Blackberries, Blueberries, Raspberries)
1 cup leafy greens 
1 cup of plain yogurt or non dairy yogurt
1 tsp unsweetened cacao powder
1 cup of milk or plain non-dairy milk
Directions: Measure out all of the ingredients and blend together until smooth.
Incorporating Detox Smoothies into Your Routine
There's really no bad time of the day to enjoy a detox smoothie, however, one of the best times to have them is in the morning, since they're a nutrient-dense way to start your day. They can also be easily taken on the go, which can be helpful for those rushing out the door. "If you're a busy mom or don't usually eat breakfast these can be the perfect additive," says Dr. Avena. "They are also easy to digest in the mornings if you want to prevent stomach upset throughout the day."
Post Workout
Smoothies also will work well as a post-workout snack when we add protein to them. "When we blend fruits, we make their sugars faster-absorbing but pairing them with protein will help to replenish protein stores and muscle stores making recovery easier," says Tills.
Make Ahead
One way to make your smoothie-making process a whole lot easier is to meal prep, the same way you would any other full meal. Dr. Avena recommends making a triple batch and storing them in a freezer-safe container. "Take the smoothie out and refrigerate it overnight before using it the next day," she says. "Another good way to freeze a smoothie is to keep it in ice cube trays, and blend with water whenever you want your smoothie."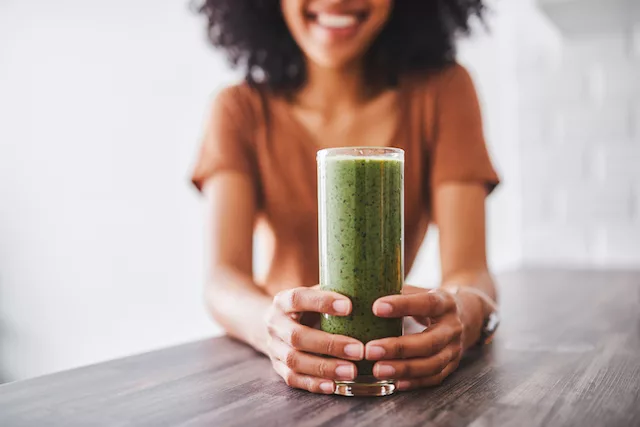 Sourcing Ingredients
When it comes to sourcing your ingredients, you can opt to buy from your local grocery store or, better yet, a farmer's market close by. While a lot of farmer's market produce is not labeled "organic," it very well might be, notes Kimszal. "You can ask how produce is sourced and if there are any pesticides used," she says. You can also sign up for a fresh fruit and produce delivery service or find a program that offers fresh and organic ingredients or even try to grow your own garden so you really know where your produce is coming from. 
NOW…
It's important to remember that your body is already equipped with what it needs to detox, however, incorporating the right nutrients and consuming them in the right way (i.e. a detox smoothie), can help facilitate that detoxification even further.