Craving fast food but trying not to skimp out on nutritional benefits? Gaby Vaca-Flores, RDN, CLE, breaks down how to build a healthy order straight from the Chipotle menu.
Chipotle delivers on convenience and flavor alike, and its popularity is largely due to its customization factor. Chipotle only uses 53 ingredients to prepare their menu, yet there are countless meal combinations to be made.
Moreover, Chipotle has earned a reputation for being a healthier alternative to other fast food restaurants. While they certainly do offer plenty of nutritious options, a couple of menu items aren't necessarily the best for your diet.
If you regularly eat at Chipotle, it may be worth re-evaluating your go-to order to make sure that you are ordering with your health and wellness in mind. This dietitian-approved guide to navigating the Chipotle menu will break down the healthiest choices, then provide you with three sample order options to try the next time you get takeout.
Whether you're ordering a bowl or burrito, the first step in the Chipotle experience is picking a base. You get to choose from three options:
white rice
brown rice
no rice (perhaps subbing with greens for a salad)
This may be surprising—largely because white rice often gets a bad rep—but white and brown rice are both healthy options. Both deliver the same amount of calories (210 calories per serving) and only differ slightly in their fat and carbohydrate amounts. 
The main advantage that brown rice holds over its white counterpart is that it packs roughly a gram more of fiber per half-cup of rice. With this in mind, both options can contribute similar nutritional value to your bowl or burrito. 
Recommended Base Options
Personally, I find the happy medium by asking for a light amount of brown rice (or white, if that's what I'm in the mood for that day).
Skipping rice altogether may also be something to consider if you are looking to build a bowl that is less carb-heavy and you want to make room for other starchy toppings (i.e., beans). If I plan on enjoying chips with my bowl, I ask for no rice to help create a more balanced meal.
Next in line are the protein options. There's plenty to choose from, including staples from the standard Chipotle menu:
chicken
steak
barbacoa (shredded beef)
carnitas (shredded pork)
sofritas (plant-based protein)
It's worth noting that Chipotle offers several different types of chicken and steak choices that differ in flavor and nutritional value.
The leanest protein options at Chipotle are the regular chicken, regular steak, and barbacoa. These options provide between 21 to 32 grams of protein and only 6 to 7 grams of fat per serving.
The less healthy protein sources include garlic guajillo steak, carnitas, pollo asado, and chicken al pastor. Mainly, these are considered less healthy because they are higher in fat, ranging in 11 to 15 grams per serving.
Sofritas are the plant-based protein option that are made from sauteeing a mix of chipotle peppers, tomatoes, spices, and tofu. This is a delicious option for vegans and vegetarians. Though sofritas are a good source of protein, they also provide 10 grams of fat per serving.
It's also worth mentioning that Chipotle offers a 'Veggie' protein option that consists of guacamole and choice of beans. While this option provides less protein than the meat-based options, it can help give your bowl or burrito a boost of healthy fats and fiber.
Recommended Protein Options
For a balanced meal at Chipotle packed with lean protein, I recommend choosing the following:
chicken (regular)
steak (regular)
barbacoa
Chipotle Menu: Veggies and Salsas
This step is the perfect opportunity to add some color and additional nutrients to your meal. You can choose from beans, lettuce, and fajita veggies. There are also several tiers of salsa available that vary in spiciness. 
When it comes to beans, you can select black or pinto beans. Both options offer near identical nutritional value, providing 130 calories and 8 grams of protein per serving. Plus, beans are an excellent source of fiber.
Similarly, there are no noteworthy nutritional differences between the chopped romaine lettuce and fajita veggies. However, lettuce will add a satisfying crunch to your meal. Fajita veggies, or sliced bell peppers, will add savoriness. 
Additionally, the different salsa options—such as the fresh tomato salsa and the tomatillo green salsa—provide another opportunity to boost the amount of flavor and veggies into your meal.
Recommended Veggie and Salsa Options
You can't go wrong choosing any of the vegetable options at Chipotle. Don't overthink it and simply select the combination of veggies that you prefer. (When it comes to veggies, the more the merrier!)
Personally, I opt in for pinto beans for a fiber boost and fajita veggies topped with salsa for an extra kick.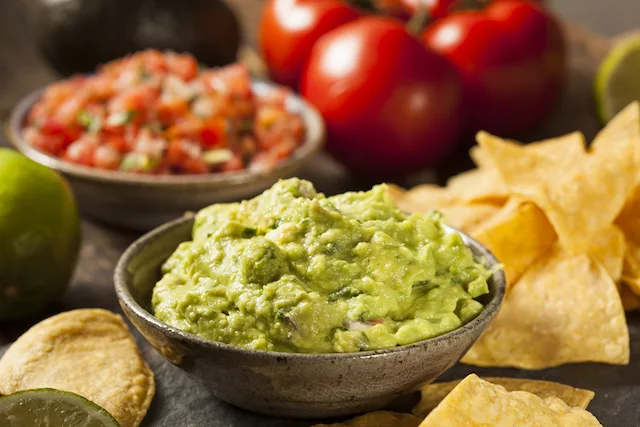 Choosing the right combination of toppings can be the difference between a balanced meal and a not-so-healthy one. Additional toppings at Chipotle include guacamole, sour cream, shredded cheese, and queso blanco.
Each of these toppings are relatively high in calories because they have a high fat content. (For reference, fats provide about twice as many calories as carbs or protein.)
Here's the calorie and fat breakdown of the additional toppings, based on their typical serving size at Chipotle:
guacamole: 230 calories, 23 grams of fat
sour cream: 110 calories, 9 grams of fat
shredded cheese: 110 calories, 8 grams of fat
queso blanco: 120 calories, 9 grams of fat
While dietary fat has its place in a standard diet, the fats found in most of these toppings are unhealthy saturated fats. The exception here is guacamole, which is made from avocado, a fruit that provides a substantial amount of healthy unsaturated fats.
Recommended Additional Toppings
If you're looking to enjoy Chipotle's topping offerings, I would recommend asking for a light amount from the options shared above. Usually, this means that they will serve you about half of a typical serving. This is a good way to still incorporate more flavor into your meal without adding too many extra calories.
3 Healthy Sample Orders from Chipotle
With so many combination options, Chipotle offers something for everyone. As a dietitian, I vet for the following meals as some of the healthiest fare straight off of the Chipotle menu.
Healthy Chipotle Meal #1: Chicken and Rice Bowl
How to order:
Rice (light amount of white or brown rice)
Chicken or steak
Pinto or black beans
Lettuce
Salsa of choice
Shredded cheese (light amount)
Here's the nutrition breakdown for the chicken and rice bowl: 
Calories: 470
Protein: 45 g 
Carbs: 43 g
Fat: 15 g
Think of this bowl as your go-to option for when you need a convenient—but still healthy and balanced—meal from Chipotle. In this bowl, you are getting all three of your macronutrients plus veggies, fiber, and a ton of flavor.
Moreover, this meal is incredibly easy to customize based on your flavor preferences. You can easily swap out the lettuce for fajita veggies or the beans for the corn salsa. 
I recommend asking for a light amount of rice to help make room for the beans, which are a starchy and very filling vegetable.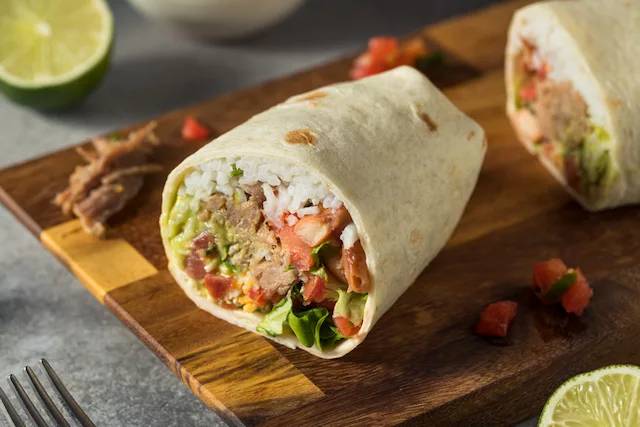 Healthy Chipotle Meal #2: Steak and Veggie Burrito
How to order:
Tortilla
No rice
Beans (light amount of black or pinto beans)
Steak 
Salsa of choice
Roasted chili corn
Fajita veggies 
Here's the nutrition breakdown for the power burrito:
Calories: 660
Protein: 37 g
Carbs: 87 g
Fat: 17 g
The power burrito is the perfect choice if you are on-the-go or looking to boost your protein intake. What's great about this burrito is that it's loaded with flavorful vegetables from the fajita bell peppers, corn, beans, and salsa. 
Since this burrito packs significantly more calories than the first option (one tortilla at Chipotle has a whopping 320 calories), I recommend cutting this burrito in half and saving the leftovers for dinner or sharing it with a friend.
Healthy Chipotle Meal #3: Veggie Bowl
How to order:
Rice (light amount of brown or white rice)
Sofritas 
Beans (light amount of black or pinto beans) 
Salsa of choice
Fajita veggies 
Here's the nutrition breakdown for the veggie bowl:
Calories: 405
Protein: 17 g
Carbs: 55 g
Fat: 15 g
The veggie bowl is the ideal choice for someone who is looking for a plant-based meal that still delivers on protein and complex carbohydrates. 
The Takeaway
It can be tricky picking out the healthiest options when you eat out, especially if the restaurant does a good job of marketing their entire menu as healthy. However, it's very well possible to build a healthy meal from the Chipotle menu by selecting balanced bases, lean proteins, and nutrient-rich toppings. At the same time, it's worth being mindful of portion sizes—as well as being aware of a few less-than-nutritious options that may be worth enjoying on occasion, but perhaps not for each and every Chipotle order.