The product recommendations in this post are recommendations by the writer and/or expert(s)
interviewed and do not contain affiliate links. Meaning: If you use these links to buy
something, we will not earn a commission.
Having lived most of my life in New York, the bar is set pretty high for me when it comes to bagels. Nothing beats a fresh bagel with a schmear. And in the city, you need only walk a few blocks to find a decent one. (H&H bagels are the very best ones, in case you were wondering!) But sometimes you may be in a place where there are no fresh bagels, so store-bought rounds will just have to do.
I grew up on Long Island in a Jewish family where bagels formed the basis of a "dairy bite" meal, consisting of cream cheese, lox, white fish, and blintzes. I've brought bags full of sesame, poppy, egg, pumpernickel, and everything bagels on airplanes for family members in other states. So unsurprisingly, store-bought bagels are not something I put on my regular shopping list.
Yet, for this experiment, I was determined to find the best possible store-bought bagels. As a control, I tried only plain bagels, toasted each bagel on the same medium setting, and topped each bagel with cream cheese, tasting both the top and the bottom halves.
Here are the results of my bagel test, ranked from worst to best. If you haven't tried a real NYC bagel, book your trip ASAP! In the meantime, read on to find out which one you'll want to pick up from the grocery store in a pinch (and some you should definitely skip).
Per serving (1 bagel): 260 calories, 1.5 g fat, 470 mg sodium, 53 g carbs (2 g fiber, 6 g sugar), 9 g protein
Aldi is a great place to find cool products and low prices on many grocery staples. But when it comes to bagels, it's best to avoid. At first glance, these bagels, which come six to a package, appear to have a dusty coating, which is unappealing to say the least.
When toasted, the bread was full of little holes that made it look mangled. At this point, the only reason I bit into the bagel was to carry out the test. The texture was doughy and it tasted extremely bland. Even a thick coating of cream cheese could not make these bagels edible.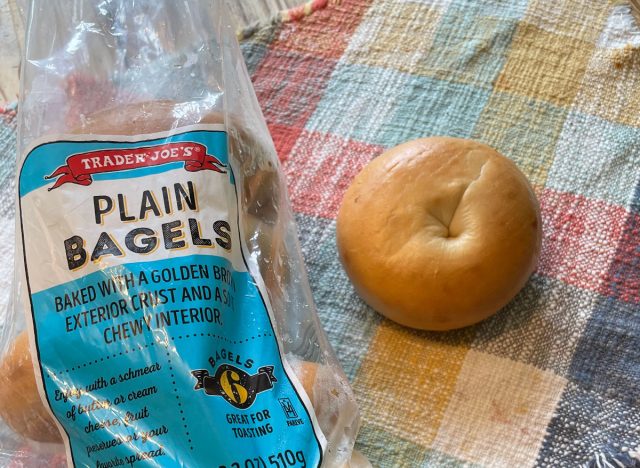 Per serving (1 bagel): 240 calories, 1.5 g fat, 330 mg sodium, 48 g carbs (2 g fiber, 3 g sugar), 9 g protein
These bagels are marketed as "great for toasting." As for eating…not so much. I'm normally a big fan of all things from Trader Joe's, but the bagels? Oy gevalt! All of the bagels in the package looked slightly different. The one I tasted didn't even have a hole, just a pucker in the center that looked like a belly button.
After toasting, the texture of the bagel appeared extremely crumbly. It tasted bland, too, and way too fluffy, like biting into a pillow. What made me even more kvetchy was that these were the only bagels I tested that weren't pre-sliced.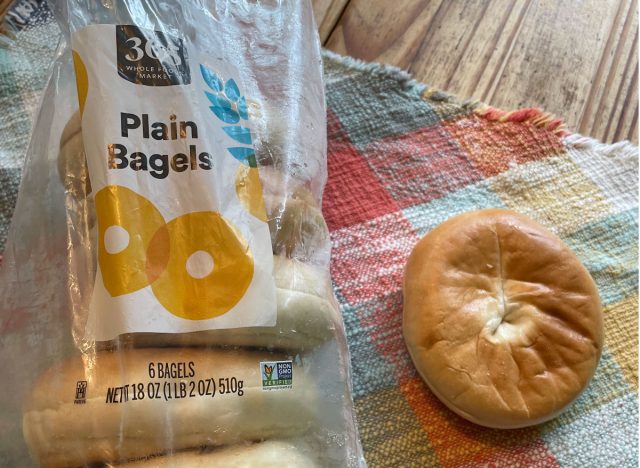 Per serving (1 bagel): 230 calories, 1.5 g fat, 350 mg sodium, 43 g carbs (2 g fiber, 5 g sugar), 8 g protein
The shapes and sizes of these bagels from Whole Foods varied within the package, and the ones I got looked squished. They toasted up OK with a nice brown hue to them, but they were small, about the size of a hockey puck.
Biting into this bagel was a very bland experience and reminded me of the type of bagel that would be sitting in a plastic case at a motel's free continental breakfast. I'd pass this one up in favor of individual sized cereal and a banana.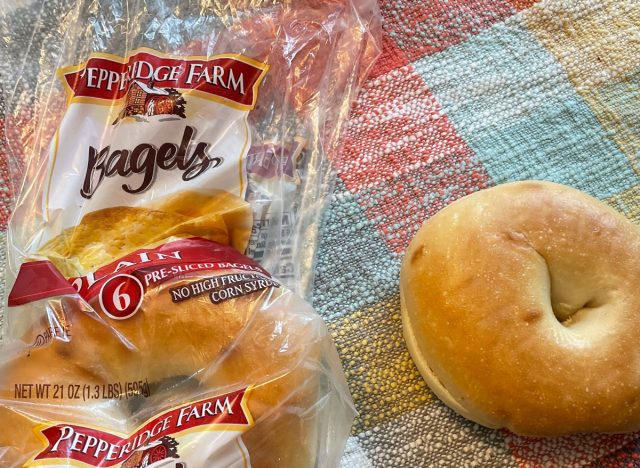 Per serving (1 bagel): 260 calories, 1 g fat, 330 mg sodium, 54 g carbs (3 g fiber, 10 g sugar), 9 g protein
These bagels were large and flat and almost bialy-like in appearance. They had a nice golden exterior and when toasted, revealed lots of nooks and crannies, almost like an English muffin.
When biting in, these bagels had a very mushy mouth feel. They also had the highest amount of sugar of all the bagels on my list—a whopping 10 grams. Oy vey!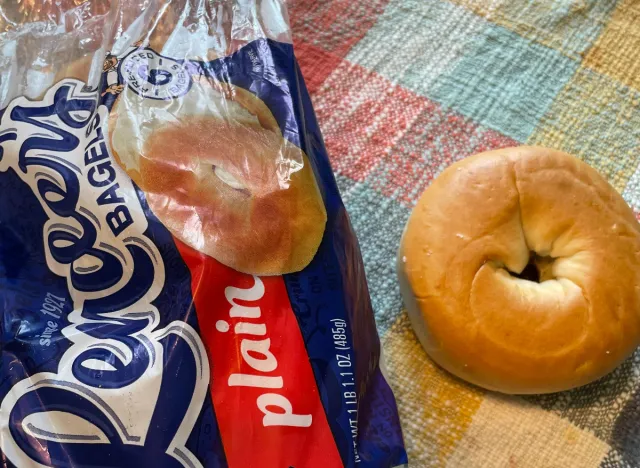 Per serving (1 bagel): 220 calories, 1.5 g fat, 430 mg sodium, 42 g carbs (2 g fiber, 13 g sugar), 8 g protein
Lender's pioneered the pre-packaged bagel and was started by Harry Lender, a Jew from Connecticut, which had me kvelling. These very small, round and white bagels toasted up nicely, with a golden-brown finish. But the taste was bland and pillowy, not the flavorful, chewy texture that you want in a really good bagel. Although it may have started out as something authentic, this mass-produced bagel would not be my top choice for a nosh.
Per serving (1 bagel): 260 calories, 1.5 g fat (0.5 g saturated fat), 410 mg sodium, 53 g carbs (3 g fiber, 7 g sugar), 9 g protein
6254a4d1642c605c54bf1cab17d50f1e
I am a fan of Thomas' English muffins, so I had slightly higher hopes for these bagels. Out of the package they had a somewhat unappealing brownish color but toasted up nicely. The texture was chewy in the middle and the taste was a bit grainy, which I preferred to the overall blandness of the other bagels. But to be honest, I'd sooner buy their English muffins than eat these bagels again.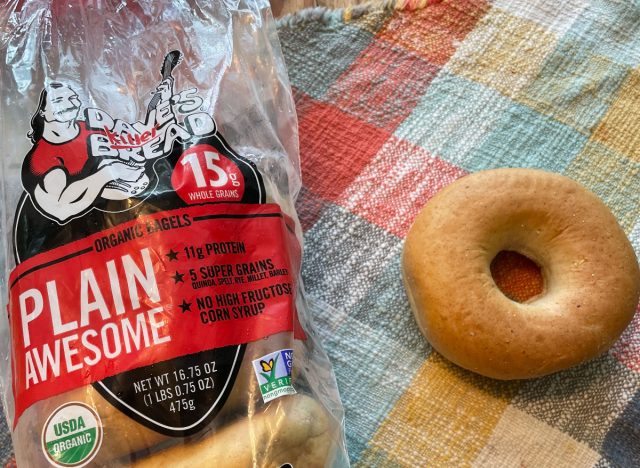 Per serving (1 bagel): 260 calories, 3 g fat, 410 mg sodium, 48 g carbs (3 g fiber, 5 g sugar), 11 g protein
I have bought and enjoyed several varieties of Dave's Killer breads in the past. These bagels had a much grainier appearance than all of the other bagels I tried, which was a good thing. They also contain 15 grams of whole grains, making them a healthier choice.
Surprisingly, they were no higher in fiber than some of the other options—and still had more sugar than fiber, which is a no-no for me when buying any type of store-bought bread. Still, these toasted up well and had a nice whole-grain taste. To note: the holes in these bagels are huge, which I guess could be good to fill up with cream cheese?
These bagels won't hold up next to anything from a real bagel store in the five boroughs, but if you're somewhere else, like the Midwest, you'd be meshuggeneh to pass them up.