Mitch Wagner has a logged a lot of miles, reps, and brutal WODs in pursuit of CrossFit greatness. The Swolverine athlete came about as close to the Games as you can come in 2019, when he was an alternate for Invictus, a former team champion. Two years and some serious injury rehab later, he's rising the ranks as an individual and feeling ready for any challenge.
Wagner was a regular at CrossFit regionals five years in a row, peaking at 8th in the Atlantic region in 2018. But an old shoulder injury reared its ugly head, and he knew surgery was his only option if he ever wanted to compete again. After repairing the damage in late 2019, Wagner used the forced hiatus of 2020 to work on his recovery and upgrade his lifting technique. It paid off when he finished 24th worldwide in the Men's RX open for 2021, closer than ever to some big names like Rich Froning and Saxon Panchik.
Ahead of the 2021 Granite Games CrossFit Regionals, I talked with Wagner about his recovery, his prep, and how he starts his morning right for whatever comes in the day.
A shoulder injury stopped your rise in the sport. How have you righted the ship?
It was an old shoulder injury from football that I'd been able to train through for several years. But all the reps and volume from my CrossFit training started to trigger it. I tweaked it bad in 2018 in Dubai in a snatch event, and it was never the same after that.
Early in 2019 it was really giving me issues, and I didn't do well at all in my competitions. It got worse and worse after that. I took some time off through the summer. We had an orthopedic surgeon at our gym, and he confirmed the labrum was torn, so I got the surgery in October of 2019.
It was kind of the perfect scenario to heal because a lot of the live competitions were shut down in 2020, so I was able to really take my time and recover. I did a lot of biking and running for those first six weeks after surgery because that's all I could do. It was the perfect time to take a step back and reassess what I was doing that might have led to that injury.
Intense training phases deserve a two-pronged approach to supplements: Here are the four Swolverine products Mitch Wagner relies on to help his body recover quickly so he can maintain peak performance during his Games preparation.
How did you approach recovery?
I took recovery very slow and hired an Olympic lifting coach. He helped with the recovery process, going through the movements and taking it slow. I also began working with the supplement brand Swolverine during that time, so I was able to take the right supplements to help with my workout recovery.
My coach helped me identify the internal rotation in my shoulders, which was putting a lot of pressure on my labrum and my biceps tendon. I'm a muscle-bound guy, and mobility is one of my big issues.
Since the injury, I've really focused on retraining my lifts, especially the snatch. I had to work on opening up my shoulders and pecs to receive the bar and get my lats activated. I'm doing a lot more mobility drills and stretching. I'm still a work in progress for sure, but I've really seen the benefits in my shoulder health.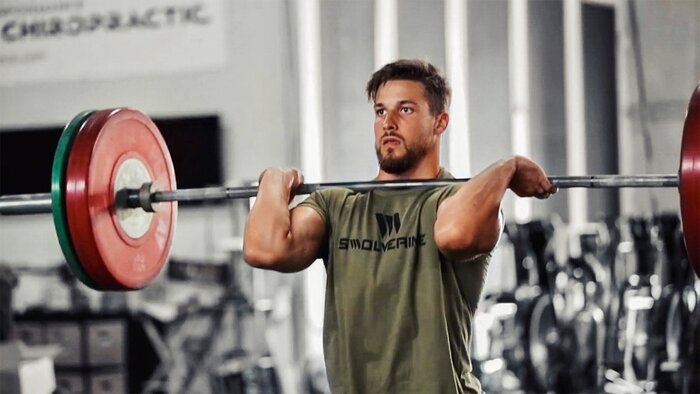 You're a CrossFitter and your wife is in the Army. Is doing the Murph WOD on Memorial Day a family affair?
It's funny, because it was my parents who got me into Murph, and we actually do it all together as a family. My mom is in her 60s, and she does it all: legit push-ups, squats, pull-ups. She doesn't wear the weight vest, but she does the full run and everything else.
I do a lot of the programming at our gym in Augusta, so to prepare everyone for Murph, we've been adding in some higher-rep pull-ups, squatting, and long runs. Murph can be a pretty brutal workout—especially in this Georgia heat. But people really want to do it and to be involved in something bigger than just a workout.
What's so great about CrossFit is it's scalable to every fitness level. It's something people can do that feels bigger than just a workout. It has a special meaning to it, especially on Memorial Day.
As you get higher into the world of elite CrossFit, how you fuel becomes more important. What do you prioritize in your supplements and nutrition?
I've never been a big supplement guy, but the reason I chose Swolverine is their clean, whole-foods-based supplements like Clean Carbs. That's what really turned me on to them. It's a smaller company, so it feels more like a family as far as how they treat me.
I'm not a big breakfast guy, so I like to throw some whey protein isolate and Clean Carbs together in a shake for breakfast with bananas and berries. Those are probably my two staples. I also take krill oil to help manage inflammation and vitamin B complex and vitamin D3 to simply be healthy and feel good.
The fact that their carbs are oatmeal, dried blueberries, sweet potato powder—it's not a bunch of crazy stuff you've never heard of before. It's real food and I'm not having to second guess what I'm putting into my body.
Follow Mitch Wagner's progress at https://www.instagram.com/mitch.wagz/