If you want to sculpt impressively flatter abs after 40, firing up your core from every single angle is the name of the game. Building up and maintaining a strong core becomes more important than ever as you age, as it plays an integral role in your performance of daily tasks, the active hobbies you love, and sports. It even helps you preserve your independent lifestyle. Having weak muscles in this area of your body can lead to poor posture and a greater susceptibility to muscle injuries and back pain. The goal is to lead your best, healthiest, and fittest life well into your 40s and beyond, which is why performing exercises that strengthen and tone your midsection is a necessity. We have you covered with two of the best total core workouts for flatter abs after 40, brought to you by fitness pros.
If you're eager to get your core into shape, listen up and fire up those abs! Keep reading to learn all about the best total core workouts for flatter abs after 40, provided by experts. And when you're finished, don't miss out on the 7 Exercises To Slim Down a Thick Waistline in 30 Days.
Total Core Workout #1
"This workout is an effective total core workout to build leaner, more toned abs, especially after turning 40," explains Marissa West, CPT and nutrition specialist, founder of West Kept Secret. "It can be harder to build muscle mass, especially in the core as we age, but this series takes each core muscle group to fatigue while ensuring safe form and protecting the back."
The below total core workout for flatter abs is West's signature ab series. You'll start by performing each exercise for 10 reps, and repeat all by decreasing the rep count by one for every round you're able to do.
1. Crunches
Start this ab series by lying flat on your back. Bend your knees, and plant your heels hip-width apart on the floor. Your toes should point up. Place your fingers behind your neck—without interlacing them—and lift your head off the ground. Crunch up as you bring your chin toward your chest, then lower back down. Complete 10 reps.
2. Reverse Crunches
Next, West instructs you to lower your neck and raise your legs to 90 degrees. Perform 10 reverse crunches, making sure to keep your knees together.
3. Crunches with Legs Up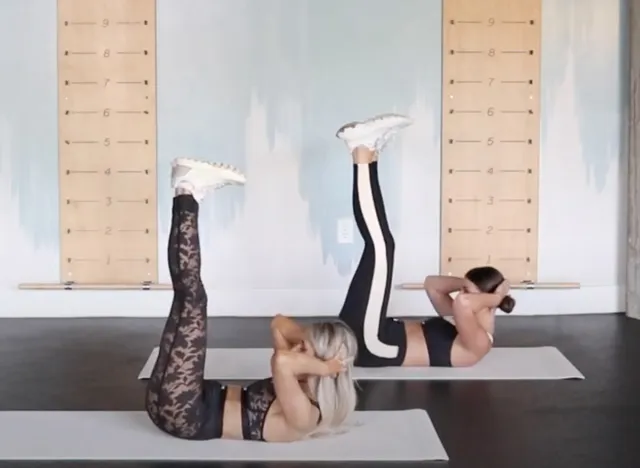 Extend your legs straight up and keep them together as you perform 10 more crunches. Right about now, you'll start to feel the total core burn!
4. Crunches with Legs Slightly Apart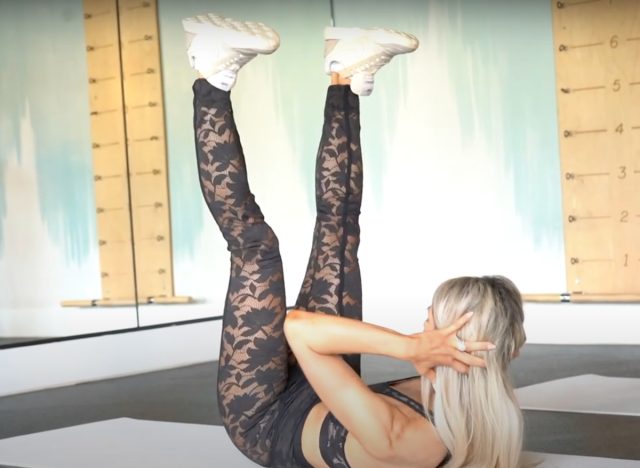 Now, bring your legs slightly apart and keep them raised as you perform 10 more crunches in this position.6254a4d1642c605c54bf1cab17d50f1e
5. Crunches with Legs Together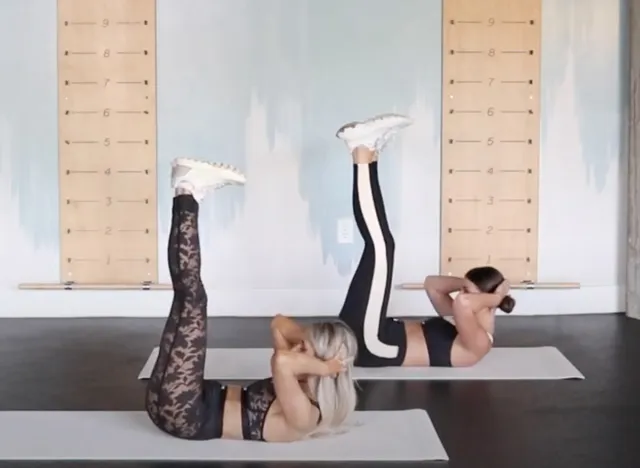 Bring your legs back together and keep them fully extended for 10 crunches.
6. Reverse Crunches
We're back at reverse crunches, where your legs should be raised to 90 degrees, your feet off the ground, and your knees kept together. Perform 10 crunches from this position.
7. Crunches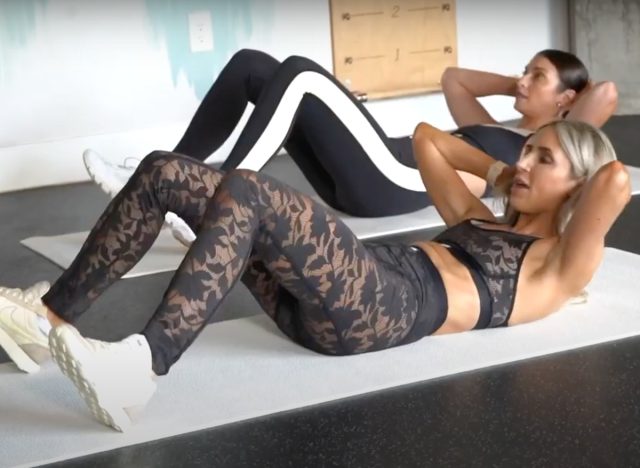 Now, it's time to move back to where you started. Drop your feet down, and perform 10 crunches with your knees bent and heels on the ground.
8. Side-to-Side Ab Reaches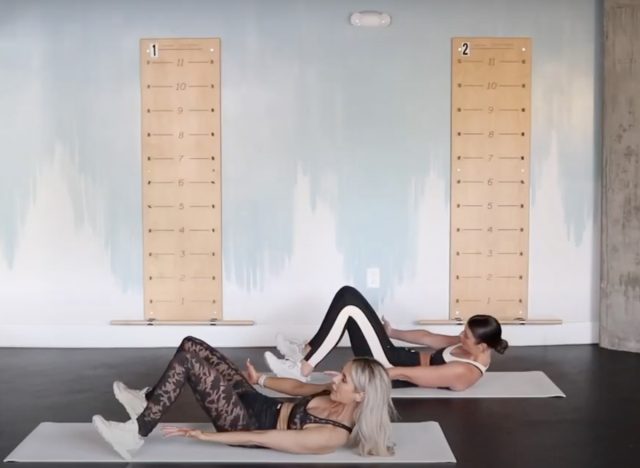 For this final move, you'll remain with your heels planted on the floor, and lower your arms to your sides, but keep them off the floor. Reach to the left side of your body, then to the right, as you continue to alternate for 10 reps.
Total Core Workout #2
This next total core workout comes to us from Ellen Thompson, CPT, Blink Fitness.
1. Planks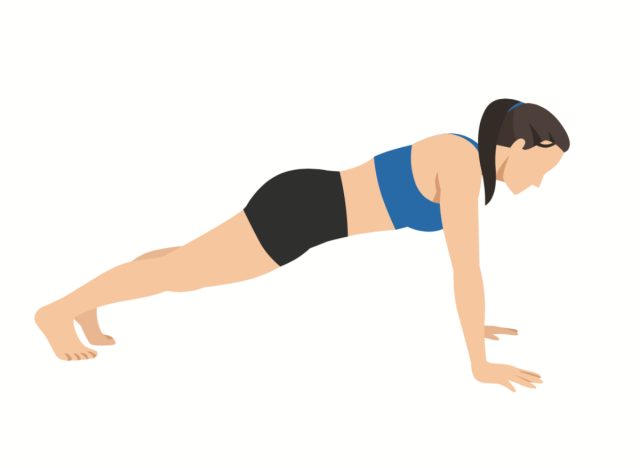 You'll begin this workout with planks, which will get your core burning. Begin in a high plank with your hands under your shoulders and your body forming a straight line. You can either remain in a high plank or lower to your forearms for a forearm plank. Make sure your back doesn't cave in as you hold this position for 30 to 60 seconds. Perform three sets of 10 to 12 reps.
2. Bicycle Crunches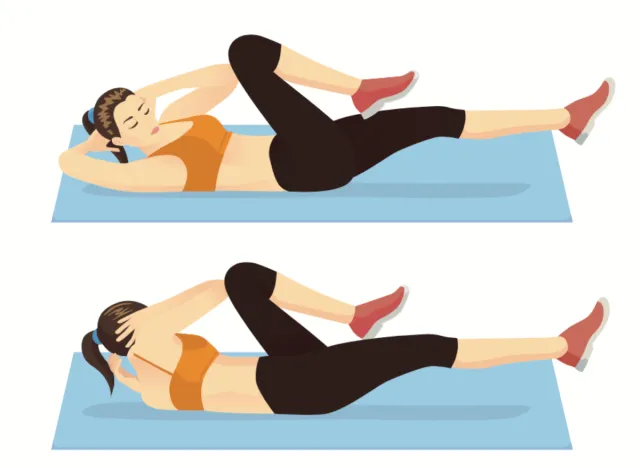 Set up for the bicycle crunch by lying flat on your back and placing your hands behind your head. Your legs should be lifted and your knees bent. Raise your head, shoulders, and neck off the floor. Crunch the right side of your body up as you bring your right elbow and opposite knee together. Extend your right leg at the same time. Repeat on the opposite side, and continue to alternate as you perform three sets of 10 to 12 reps.
3. Standing Side Crunches
The standing side crunch begins with you standing tall and planting your feet shoulder-width apart. Place your hands behind your head. "Contract your abs" as you bend your upper body to your right side, moving your right elbow toward your right hip. Repeat the same motion on the opposite side. Perform three sets of 10 to 12 reps.
4. Superman
The last movement in this total core workout for flatter abs after 40 is the Superman. Lie flat on your tummy with your arms extended ahead of you and your legs straight. Raise your chest, arms, and legs off the floor as high up as you can go. Squeeze your lower back and buttocks as you hold this position for a moment before releasing. Perform three sets of 10 to 12 reps.
Alexa Mellardo
Alexa is the Mind + Body Deputy Editor of Eat This, Not That!, overseeing the M+B channel and delivering compelling fitness, wellness, and self-care topics to readers.
Read more about Alexa