The product recommendations in this post are recommendations by the writer and/or expert(s)
interviewed and do not contain affiliate links. Meaning: If you use these links to buy
something, we will not earn a commission.
Satisfying your savory cravings with a bowl of cozy, homemade mac and cheese is unmatched, especially when you throw in a handful of your favorite types of cheese, butter, and noodles to craft the perfect concoction. It's great if you have the time and patience to make your own mac from scratch, but sometimes cravings strike and you just can't bring yourself to cook something with all those components. When that's the case, simple boxed mac and cheese is an easy—and still delicious—solution.
You probably don't often associate boxed macaroni and cheese with the words "healthy" or "nutritious," but there are now a handful of healthier options you can find on most grocery store shelves. But what makes these boxes "healthy" and what makes others "unhealthy?" When choosing the best boxed mac and cheese, you'll want to look at those where the calorie, fat, saturated fat, and sodium count are lower, as these elements can often be higher in more affordable, store-bought products. Another component to look at is whether or not the noodles are made with refined flour, which means they'll have barely any fiber or nutrients remaining, or if they're made with more nutrient-dense ingredients like chickpea flour or whole grains.
To help you learn more about the mac and cheese brands to buy—as well as the ones to avoid—we talked with expert dietitians to get their picks. Without further ado, here are some of the best and worst boxed mac and cheese brands on grocery store shelves. Read on, and for more, don't miss 6 Unhealthiest Fast-Food Mac & Cheese Dishes.
Best Boxed Mac and Cheese
Per serving: 260 calories, 7 g fat (3 g saturated fat), 640 mg sodium, 38 g carbs (5 g fiber, 4 g sugar), 15 g protein
Not only is Banza Mac and Cheese—which is made with chickpeas—safe for those who can't eat gluten, it's also a healthier alternative to those made with refined flours.
"Rather than using refined white flour pasta, this mac is made from chickpeas and pea starch, and research shows that pulses like these are packed with fiber, phytonutrients, and contain cancer and blood sugar-stabilizing benefits," say Tammy Lakatos Shames, RDN, CDN, CFT, and Lyssie Lakatos, RDN, CDN, CFT, also known as The Nutrition Twins. "This is quite the opposite of refined macaroni, which is made with white flour and has none of these benefits."
Lauren Manaker, MS, RDN agrees, saying "Banza is a source of protein, fiber, and antioxidants, and it is just as easy to make as the classic boxed mac and cheeses, but with a touch more to offer in the nutrition department."
Per serving: 260 calories, 3 g fat (1.5 g saturated fat), 460 mg sodium, 50 g carbs (3 g fiber, 6 g sugar), 9 g protein
Boxed products are great for convenience, but many of them are full of additives and unwanted ingredients, which is why the Nutrition Twins swear by Annie's as a brand.
"In a world of boxed mac and cheese full of artificial color and flavor and processed cheese, this mac and cheese delivers on its cheesiness coming from real organic cheese from cows raised without antibiotics or synthetic hormones," say The Twins. "With all USDA Certified Organic ingredients, unlike much of the competition, there are no artificial flavors and synthetic colors. While the 9 grams of protein per serving could be a bit higher, the 260 calories, 3 grams of fat (only 1.5 coming from saturated fat), and particularly the 460 milligrams of sodium per serving are lower compared to most brands."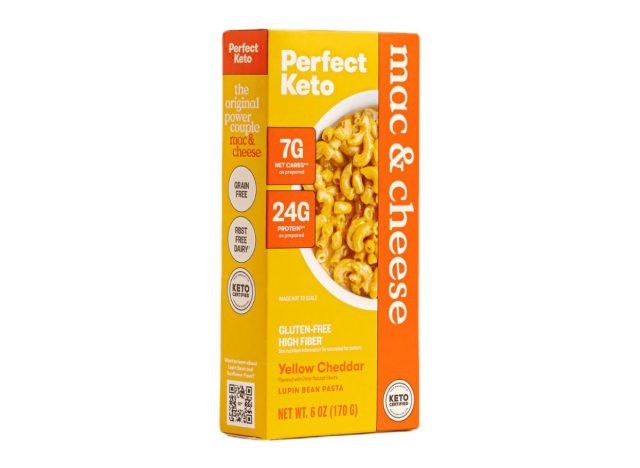 Per serving: 210 calories, 8 g fat (2.5 g saturated fat), 610 mg sodium, 26 g carbs (20 g fiber, 3 g sugar), 23 g protein
If you know which brands to choose, you can ensure that you're getting plenty of fiber and protein when chowing down on some mac and cheese. This is especially true with brands like Perfect Keto—which allows even those on the Keto diet to treat themselves to some cheesy pasta goodness.
"With 24 grams of satisfying protein combined with 20 grams of filling fiber per serving, this mac and cheese contains the winning combination for anyone who likes to feel very content after a meal," say The Nutrition Twins. "Plus, it's made with lupin flour, and research has found that compared to wheat bread and other baked products, lupin reduces chronic disease, possibly due to lupin's higher protein, fiber, and bioactive compounds."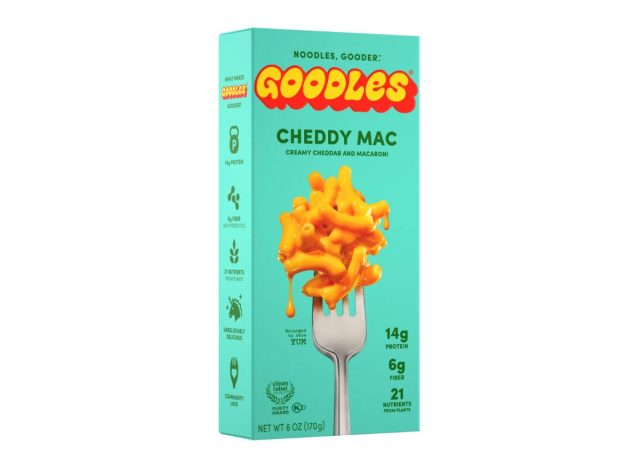 Per serving: 260 calories, 3.5 g fat (1.5 g saturated fat), 590 mg sodium, 47 g carbs (6 g fiber, 5 g sugar), 14 g protein
For healthier mac and cheese brands, Manaker vouches for Goodles Cheddy Mac. "Goodles is a newer mac and cheese option that levels up this classic dish, and one serving has 14 grams of protein, gut health-supporting prebiotics, and nothing artificial included," she says.
The Nutrition Twins agree, saying, "We like to think of Cheddy Mac as the Mac Daddy that appeals to anyone in search of a healthy mac and cheese. It has a low glycemic index, 15 grams of protein, and 6 grams of fiber to keep you feeling satisfied, and this mac and cheese is also low in fat and has only 1.5 grams of saturated fat." They add that on top of being "made with nutrient-packed ingredients like chickpea protein and nutrients extracted from antioxidant powerhouses like broccoli, spinach, kale, pumpkin, chlorella, and maitake mushrooms, one of our favorite things about this mac and cheese is that it won the Clean Label Project Purity Award, which means it was rigorously tested for over 400 contaminants including chemicals, plastics, pesticides and other toxins and received the Clean Label Certification."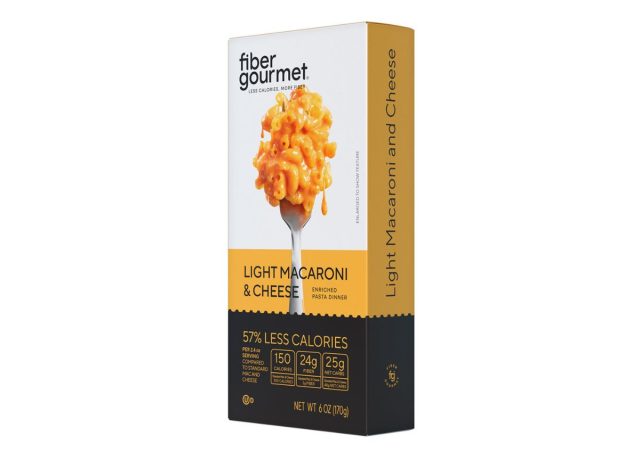 Per serving: 140 calories, 1 g fat (0 g saturated fat), 660 mg sodium, 49 g carbs (24 g fiber, 6 g sugar), 8 g protein
"Some people avoid mac and cheese because it's calorie-dense and they're afraid it will contribute to weight gain, but that's not the case for this mac and cheese, which has 57% fewer calories than traditional options and only 150 calories per serving," say The Nutrition Twins. "Even if you had two servings, you'd consume fewer calories than you would in one serving of many other brands."
Aside from the lower calorie count and a beautiful 24 grams of fiber per serving, another added benefit of Fiber Gourmet that you won't get with many popular boxed mac and cheese brands is that it contains zero grams of saturated fat, "due to its whey protein-based cheese sauce mix," say The Twins.
Worst Boxed Mac and Cheese
Per serving: 370 calories, 12 g fat (3 g saturated fat), 860 mg sodium, 49 g carbs (1 g fiber, 4 g sugar), 13 g protein
Even though this beloved classic is a creamy and delicious treat perfect for any last-minute dinner or late-night snack, Velveeta Shells & Cheese is one you may want to stay away from if you're watching your nutrition intake.
"Velveeta has almost 50% DV of sodium and 3 grams of saturated fat, making it less-than-ideal for those supporting their heart health," says Manaker. "It is also made with artificial colors, which is an ingredient many people are trying to avoid these days."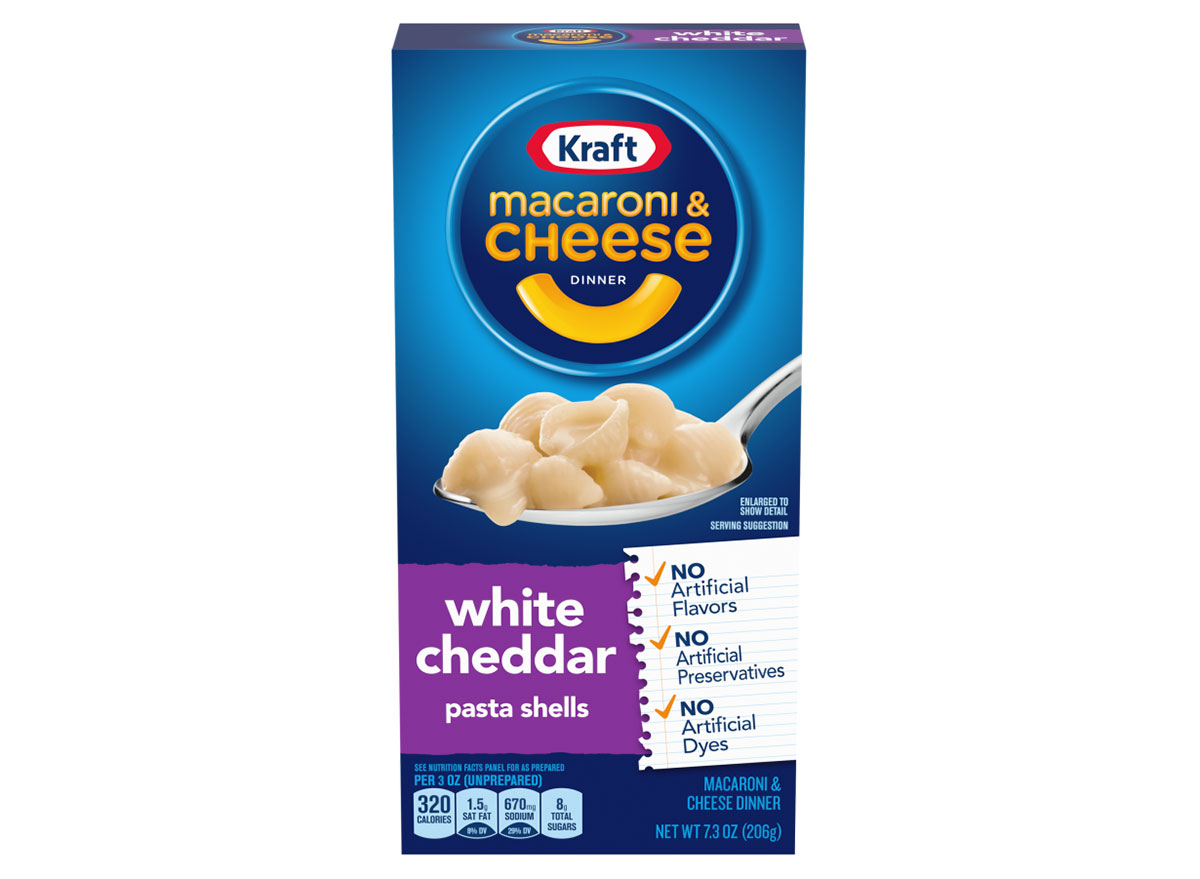 Per serving: 320 calories, 3.5 g fat (1.5 g saturated fat), 670 mg sodium, 59 g carbs (2 g fiber, 8 g sugar), 12 g protein
Arguably the most well-known mac and cheese brand, Kraft has certainly made a name for itself. Kraft may be popular, but their White Cheddar Shells aren't the best option when you're searching for a healthier mac. The calorie, fat, and sodium counts may not seem concerning at first, but what isn't ideal about this box is the lack of fiber to help your body process all of the carbs you'll be consuming.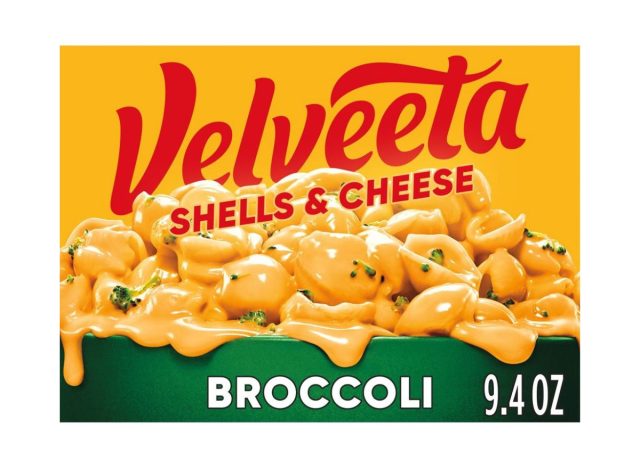 Per serving: 400 calories, 16 g fat (3.5 g saturated fat), 1,130 mg sodium, 49 g carbs (2 g fiber, 6 g sugar), 15 g protein
After reading about Velveeta Shells, you're probably not surprised to see their Broccoli flavor on the list as well. Velveeta Shells & Cheese Broccoli has 400 calories per serving and a whopping 1,130 milligrams of sodium, which is half of the daily recommended value. The 15 grams of protein may be nice, but with this much sodium, you're better off choosing one of the healthier boxes on our list.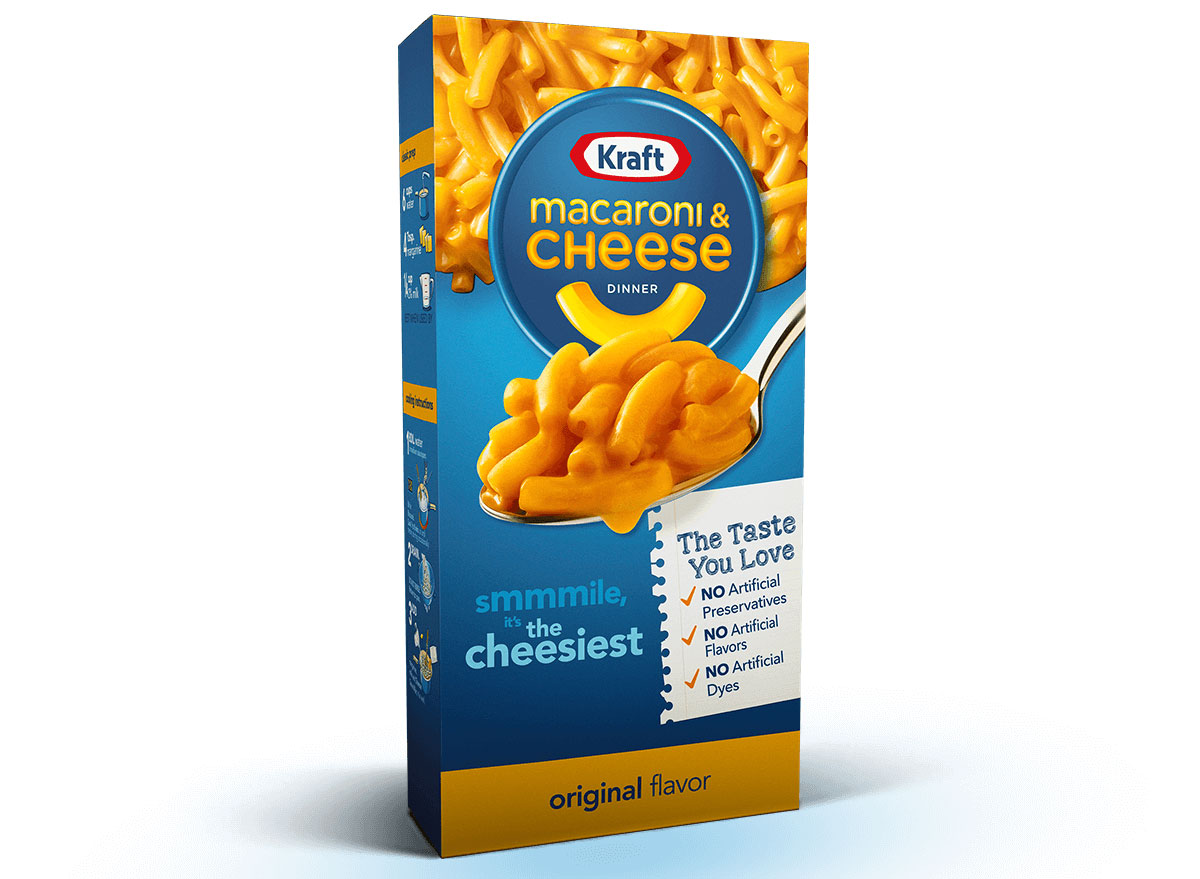 Per 1 cup: 250 calories, 2 g fat (1 g saturated fat), 570 mg sodium, 47 g carbs (2 g fiber, 9 g sugar), 9 g protein
Honestly, Kraft Original Macaroni & Cheese isn't the absolute worst when it comes to boxed varieties. The calories are on the lower end, as well as the fat and sodium, but what isn't ideal is its lack of fiber, which is the same issue with their White Cheddar Shells. Choosing any of the higher-fiber options on our list will help you avoid blood sugar spikes and will still give you the flavor and comfort you're craving from a bowl of macaroni and cheese.6254a4d1642c605c54bf1cab17d50f1e