Truth bomb: One of the most challenging parts about getting older for men is the natural loss of muscle mass that occurs with aging. After turning 30, you start to lose anywhere from three to five percent of lean muscle every single decade. Fortunately, we also have some good news. You can prevent muscle loss and even gain muscle well into your 40s and beyond. How? With a consistent strength training routine and healthy diet that fuels your workouts, enhances muscle growth, and promotes recovery. We have the ultimate daily bodyweight workout for men to stay muscular after 40, so listen up.
Jarrod Nobbe, CPT, a performance coach and certified personal trainer with Garage Gym Reviews, shares his muscle-building knowledge and delivers a go-to bodyweight workout for men in their 40s to incorporate into their daily routine and stay fit and strong. Nobbe tells us, "For this workout, we'll include bodyweight movements in complexes, pairing together multiple actions into one exercise. Rather than performing straight sets and reps, we'll use an ascending pyramid rep scheme with ranges. Take two to three minutes of rest between rounds and one minute of rest between exercises."
Complete three rounds for each exercise as follows:
Round One: six to eight repetitions (each for single side movements)
Round Two: 10 to 12 repetitions (each for single side movements)
Round Three: 13 to 15 repetitions (each for single side movements)
Read on for the workout instructions. After you finish, don't miss The Best Core Workouts for Flatter Abs After 40.
1. Lunge Matrix
This dynamic movement begins with a forward lunge into a lateral lunge, then a reverse lunge for one repetition. The different types of lunges will challenge your body through multiple planes of motion and varying stability patterns.
"One repetition would be a front, lateral, and reverse lunge on each side. Complete one repetition per side before moving to the other side. Focus on a balanced lunge movement, keep your core braced, and maintain control as you step out and recover," says Nobbe.
2. Three-Point Close Grip Pushups
The three-point close grip pushup is a challenging variation of the classic pushup that targets the triceps, chest, and shoulders. It will also put your stability to the test by alternating from foot to foot.
"Always brace and stabilize the core through the movement," says Nobbe. "Begin by raising a foot slightly off the floor, contracting that same side glue to stabilize the hip. Control the lowering and drive the hands through the floor to return to the start position. Alternate your contact foot rep to rep."6254a4d1642c605c54bf1cab17d50f1e
3. Glute Bridge Walkout
"The temporal offset of this exercise (the feet will be on the floor simultaneously but leave and land at different moments) creates a stimulus focused on the stability of the lower body joints that is dynamic by nature," Nobbe explains. "The further the feet escape from the hips, the more hamstring activation we feel. Each time the heels return to their starting position is one repetition."
Set up in a traditional glute bridge position. Take two or three steps away from your hips, planting your heel to the floor each time, then walk your heels back to your hips. Your glutes will be the focus as the heels are close to the hips. Make sure to brace your core, and keep your torso stable.
4. Renegade Rows
The renegade row is a compound exercise that activates the back, shoulders, and core muscles to help build a shredded upper body.
"The renegade row continues the theme of complete body stability while now performing our upper body pull movement," says Nobbe. "Start by establishing a strong and stable plank position, then drive each arm up and back to perform a rowing action."
5. Squat Jumps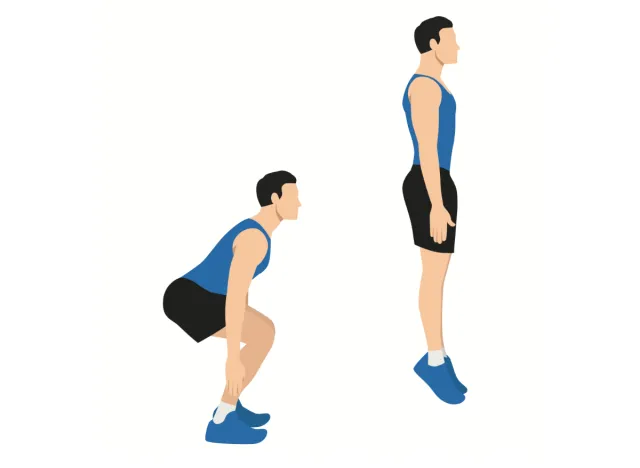 Squat jumps are a plyometric exercise (which combines speed and force to create power) that involves the lower body strength benefits of squats and the explosive power of jumping. Gear up to engage your core and lower body.
"Perform a quarter squat (slightly above parallel), focusing on excellent squat form," instructs Nobbe. "Then, drive the legs through the floor, and jump with power to the ceiling. I like to cue up clients with 'drive to the ceiling' to provide an external cue to aim for. I never expect someone's head to tap the ceiling, but I find a stronger intent of jumping with external cues. Be ready to explode back off the ground once you make contact during the landing."
Adam Meyer
Adam is a health writer, certified holistic nutritionist, and 100% plant-based athlete.
Read more about Adam