When it comes to a fit and timeless actor, Tom Cruise definitely fits the bill. He's someone mostly every age group is curious about. The actor looked amazing and ultra-fit when he starred in Top Gun back in 1986 in his 20s, and he showed the world he's still got it with the release of Top Gun: Maverick in 2022, alongside other totally in-shape stars, Miles Teller, Glen Powell, and Jay Ellis. The most recent debut of Mission: Impossible—Dead Reckoning Part One (the seventh film in the series) on July 12, 2023, has fans swooning even harder over the 61-year-old celeb and his fit physique.
It should come as no surprise that Tom Cruise gave prepping for his role in Mission Impossible 7 his all. The action-fueled star takes on the big screen once again with British actor Simon Pegg, who channels the role of Benji in the franchise. According to GQ, Pegg recruited the help of expert PT Nick Lower to get into shape for the movie, along with taking in everything he could from Cruise.
How does Tom Cruise stay at the top of his game? The star doesn't seem to show the effects of aging. In fact, he improves as the years pass by. Not only does he deliver so much talent in his action-packed films, but he truly gets into the roles, performing a ton of his own stunts. We took a deep dive into Cruise's healthy habits and fitness secrets, so keep reading to learn all about them.
Cruise takes his acting and stunt skills to new jaw-dropping levels in Mission Impossible 7. According to a behind-the-scenes video from Paramount Pictures entitled, "Mission: Impossible—Dead Reckoning Part One | The Biggest Stunt in Cinema History (Tom Cruise)," Cruise steers a motocross bike off a rocky cliff into a BASE jump. The star explains in the video, "This is far and away the most dangerous thing we've ever attempted. We've been working on this for years … I've wanted to do it since I was a little kid. It all comes down to one thing: the audience."
Lower is quoted telling GQ, "He's in top condition all the time … I do know that he uses this very expensive, high-end machine that instead of just being a normal chest press machine, for example, it works you on your eccentric load, pushing you back. So instead of doing a set of 10, you could do a set of five and you've done just as much work." He continued to explain that Cruise "trains religiously" and follows a solid eating regimen.
Although Lower didn't train one-on-one with Cruise for the latest installment in the Mission Impossible franchise, he did spend some time with the star during a celebration for Pegg's 50th birthday. Lower pointed out, "He's a completely stand-up guy. When he's talking to you, he's engaged and only talking to you. He said to me 'You keep Simon in good shape' because one of Simon's nicknames had been 'Six Pack Pegg.'" He added, "Whatever he's doing, it works. You meet him in the flesh and he looks 10 years younger."
Tom Cruise knows how to work it on and off the big screen. His secrets for looking as though he never ages? Well, he reveals exactly how he stays so fit via Men's Health, saying, "Sea-kayaking, caving… fencing, treadmill, weights… rock climbing, hiking… I jog… I do so many different activities."6254a4d1642c605c54bf1cab17d50f1e
According to sports scientist at Middlesex University, Anne Elliott (via Men's Health), "How we move conveys energy and youth—not how buff we are. Regularly switching up cardio and strength work with something like fencing or climbing—like Cruise—maintains flexibility and balance: the first two things that give your age away."
Amid all that, Cruise carves out the time to know who his fans are. He does this by spending just as much time getting to know them as his time shining on the red carpet. He reveals, "Yes, I'll spend two hours with fans. People are really kind to come out, so I want to say hello."
Related: Watch Brie Larson Crush This Kettlebell Workout for a Toned Core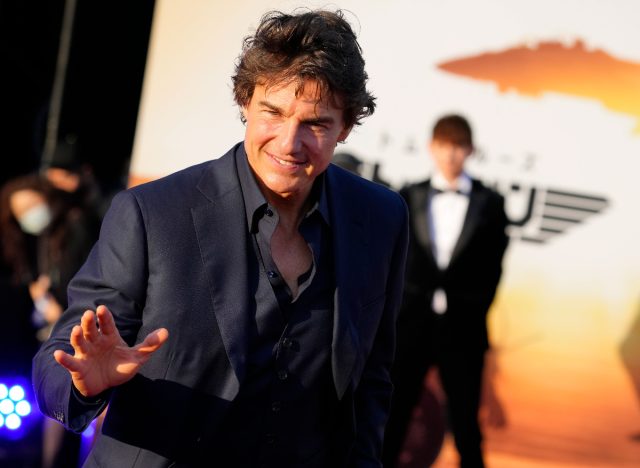 Cruise also insists on doing a lot of his own stunts. According to Insider, in Mission: Impossible—Fallout, when playing the role of Ethan Hunt, Cruise jumped out of a plane 25,000 feet from the ground, arriving in Paris, France in true Tom Cruise fashion. In another Mission Impossible movie, Cruise's character had to open a vault that was, of course, totally submerged underwater. Cruise jumped 120 feet into a 20-foot-deep tank of water and held his breath for as long as four to six minutes to film the scene. He prepared for this difficult stunt with diving expert Kirk Krack in a "breath-hold special operations program" created specifically for individuals in the military. And the list goes on!
When James Corden asked how many licenses Cruise has on The Late Late Show, he responded, "I have airplanes, commercial license, jets, a bunch of different airplanes, motorcycles, parachutes, boats. I have my real estate license. Mechanics license. Scuba diving." He certainly keeps his mind active!
According to Vulture, Cruise even curated a flight training regimen for the latest film in the Top Gun franchise, Top Gun: Maverick, which squeezed in two years' worth of flight prep into three short months. Actor Glenn Powell ("Hangman" in the movie) noted of Cruise, "Every time we went up there you have to mentally brace for a fight. You get on the ground and you're exhausted. That's what's impressive about Tom. He's flying more than anyone in the movie—he would fly three times a day."
Tom Cruise has some pretty impressive habits, an obvious passion for acting, and an incredible zest and whole-hearted dedication to many things he does. His attitude is pretty inspiring and motivating—it's no wonder why he's still young and fit at 61. In fact, he makes that mission seem quite possible!